Co-op, Steeple Claydon is an innovative retail store designed to cut carbon and energy use and inform the retailer's future development pipeline.
Project Credits
The Co-operative Group

Client

Steeple Claydon

Location

Retail & Leisure

Sectors

Architecture, Interior Design, Sustainability

Services

4,300 sq ft

Size

2020 - 2022

Programme

Complete

Status

AEW Architects

Photography
Adaptability, disassembly & reuse
a focus of design
Circular economy principles
embedded
Whole-life carbon
minimised through design
Research and development
innovations
With the Co-operative Group's commitment to its ten-point climate plan we were appointed alongside consultants Hilson Moran, Ramboll, Henry Riley and SI Sealy to design a new store for the retailer. The aim was to explore innovations and learnings that could support their carbon reduction ambitions. 
It was agreed that the Co-op would look beyond the industry norm and adopt a Whole Life Carbon 'cradle to cradle' approach, reviewing and exploring carbon reductions that could occur in the next life cycle of the building/materials. 
Together we reviewed opportunities and ideas to identify the optimum way to minimise or reduce the buildings carbon footprint and energy consumption in every area. With each decision we ensured that the store would not compromise on operational function or the customer experience.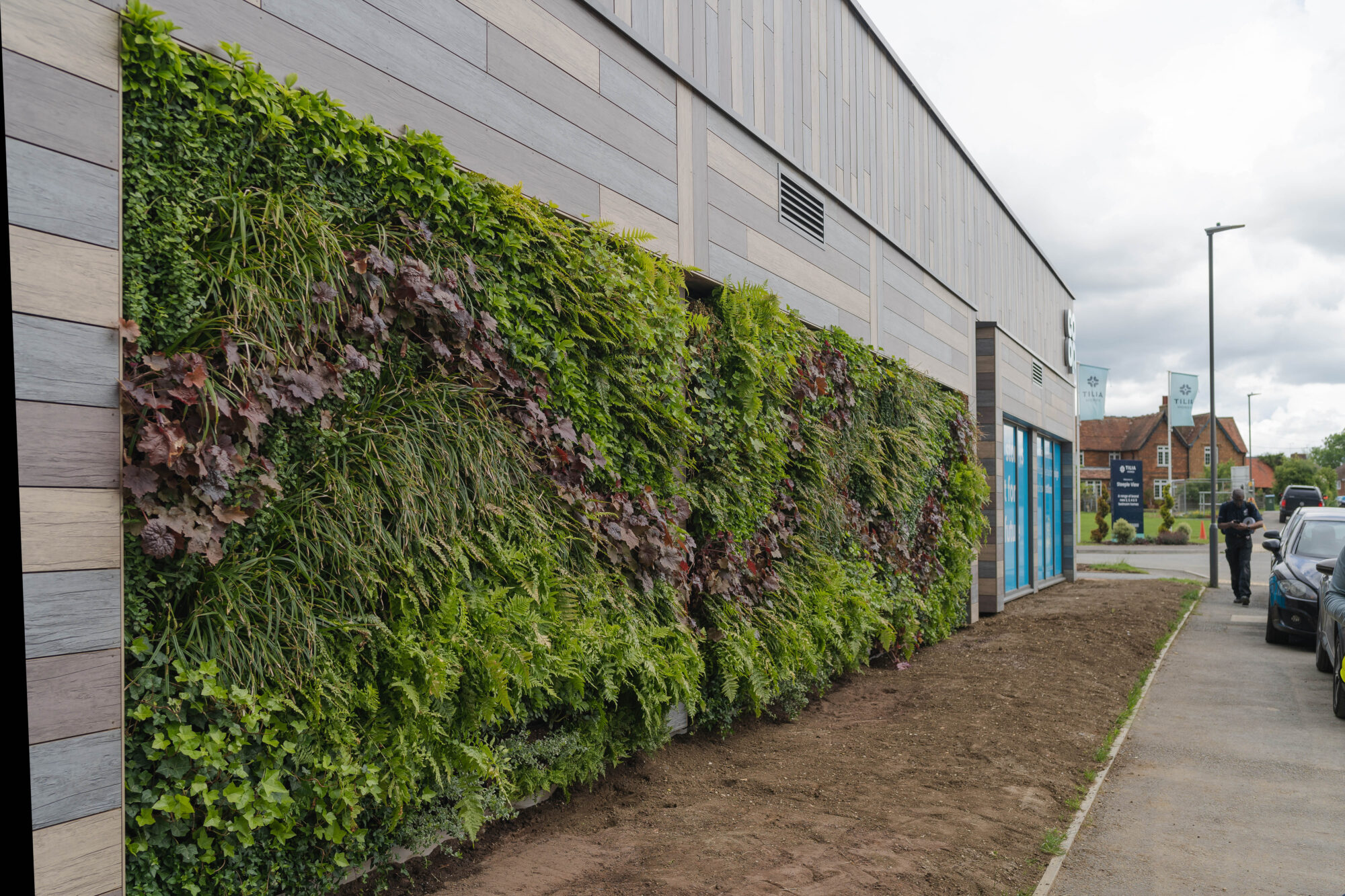 The final building represents the optimum balance of form, fabric, operational performance and usability.  
The building is constructed using a hybrid timber  and steel structural frame. Timber was selected for it's lower embodied carbon and steel for its ability to be disassembled and reused. With the cradle-to-cradle approach in mind, between 80% and 100% of the foundations, superstructure, glazing, cladding and insulation materials used in the construction are fully demountable and able to be used again. 
One of the most striking design features is the integration of a green/living wall made from recycled car battery housings. This is irrigated by rainwater and has been shown to reduce noise, create habitats for wildlife and reduce pollutants occurring in the air through particle capture. 
We also worked closely with the wider Design team to ensure the M&E strategy targeted carbon reductions. The back of house areas are served by a mechanical ventilation with heat recovery unit (MVHR) which extracts air from the WC and bakery spaces, recovers up to 95% of its heat through a plate heat exchanger, and supplies pre-conditioned fresh air into the office and staff room. 
Working with the Co-op, we're also looked to improve refrigeration efficiency with early modelling identifying this was responsible for 55% of the baselines store's energy usage. 
The store opened to customers in May 2022 and energy performance will be monitored, and learning taken. The ambition is for learnings from this project to be used on future stores as part of the measures in place to supports Co-op's ambitions to be net zero for its direct and indirect carbon emissions by 2040. We are also using the knowledge and understanding form this project to inform our approach across all our sectors and services. 
Sustainable Design Features
Living wall to multiple elevations.

Offsite timber panelised build systems with sheep wool insulation.

Screw pile foundations.

Light weight roof-mounted solar PV array.
Client Testimonials
"We are delighted to have the opportunity to serve-up a new-look, extended and improved store to serve the community. It is also exciting to be involved with a store with so many initiatives designed to not only help Co-op achieve its carbon reduction ambitions, but also help our Members and customers make small changes to their everyday lives which, together, can add up to making a big difference to the environment…"
Lyndsey Barber
Steeple Claydon Store Manager, Co-op
Project Team
Eamon O'Hara
Associate Director
Bilal Ravat
BIM Coordinator
Let's Talk