Moor Lane is a key part of the regeneration of Bolton Town centre. The masterplan accommodates 208 sustainable homes, high quality new public realm and improves connectivity across the town - helping unlock and inspire future regeneration.
Project Credits
Step Places / Bolton at Home

Client

Bolton

Location

Residential

Sectors

Masterplanning, Architecture

Services

3.8 acres / 208 homes

Size

£35m

Value

2019 - Ongoing

Programme

Under Construction

Status
208 new homes
in the heart of the town
164 one- and two-bed
apartments
44 three-bed, timber frame
houses
Mixed Tenure
and multi-generational
The Brief & Design Development
We were appointed by Step Places and Bolton at Home to develop a masterplan for this former bus station site in the centre of Bolton Town Centre. We were tasked with identifying the optimum quantum, scale and phasing for the site with the brief to provide a diverse mix of tenures and housing typologies to cater for a broad range of residents and their needs.
The site straddles the Town Hall Conservation Area and abuts two significant Bolton landmarks, the Grade II listed Le Mans Crescent and the Grade II* Listed Town Hall. Our proposals therefore also needed to respond to contextual analysis and inclusive engagement with local and statutory stakeholders.
We consulted with Bolton Council, Places Matter, Historic England, the Civic Trust, local councillors and the wider community; this process helped us explore the town, current and future customer needs, flexibility in use, meantime requirements and viability to justify design decisions.
We also commissioned site evaluation works and found previously uncovered archaeological finds from the original Victorian Iron Foundry on the site. This discovery played a key role in our design development both in terms of plan form and elevation design
"The Moor Lane development will bring much needed new high-quality homes, green spaces and public spaces to Bolton. The benefits this development brings to our town are great, both to boost our local economy and create a new neighbourhood in the heart of Bolton."
Cllr Martyn Cox
Council Leader, Bolton Council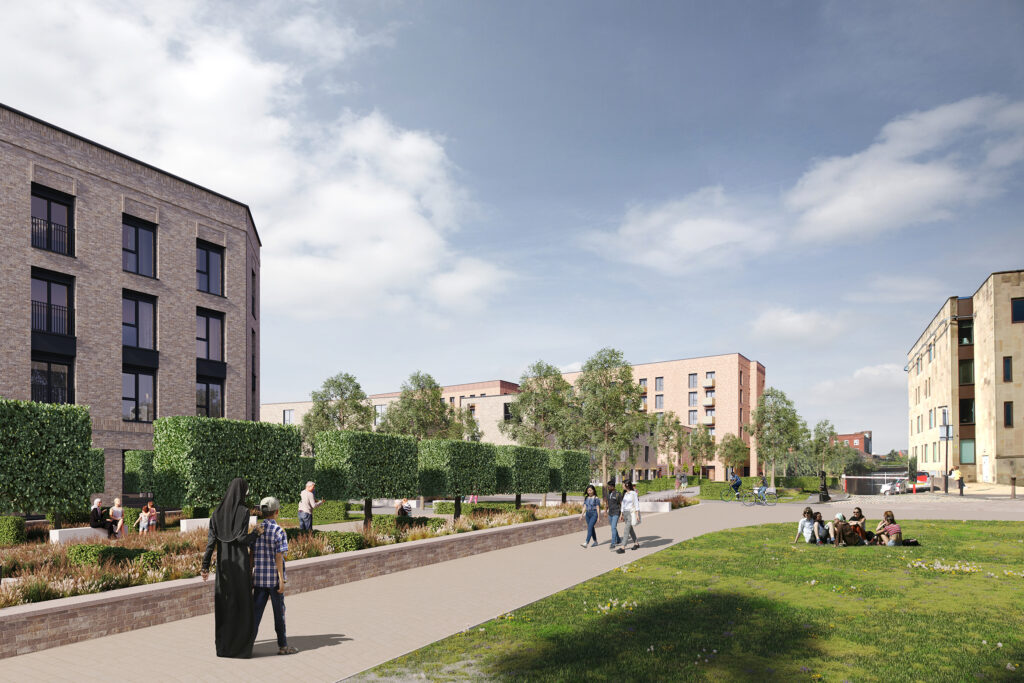 [01]
The final masterplan for the scheme accommodates 208 news homes. These comprise 164 apartments with ground floor retail across 4 purpose-built blocks, 44 urban townhouses and a network of high-quality streets, squares and parks.
The development has been arranged to front and define two significant areas of public realm. These parks will provide important vistas to residents as well as creating public routes to the listed buildings beyond and the wider town centre area.
The apartment blocks include a range of one- and two-bedroom apartments and offer a range of tenures including Affordable general needs, affordable over 55's and private rent. Each block provides ample cycle storage and the private rent buildings also feature concierge and gym facilities.
The 44no. three-bedroom 3 storey urban townhouses are arranged in tight urban blocks and are tenure blind with a split between shared ownership and open market sale. The buildings are designed to complement the civic location and are arranged around central community courtyards which provide secure parking and space for play and socialising. Each is to be constructed using a modular timber frame system.
The design focuses on ensuring high quality, sustainable homes within a well designed, highly connected location.
Design features
All homes are designed to nationally described space standards (NDSS).

New cycle and pedestrian routes masterplanned throughout.

Ground floor retail units activate the new public parks and routes.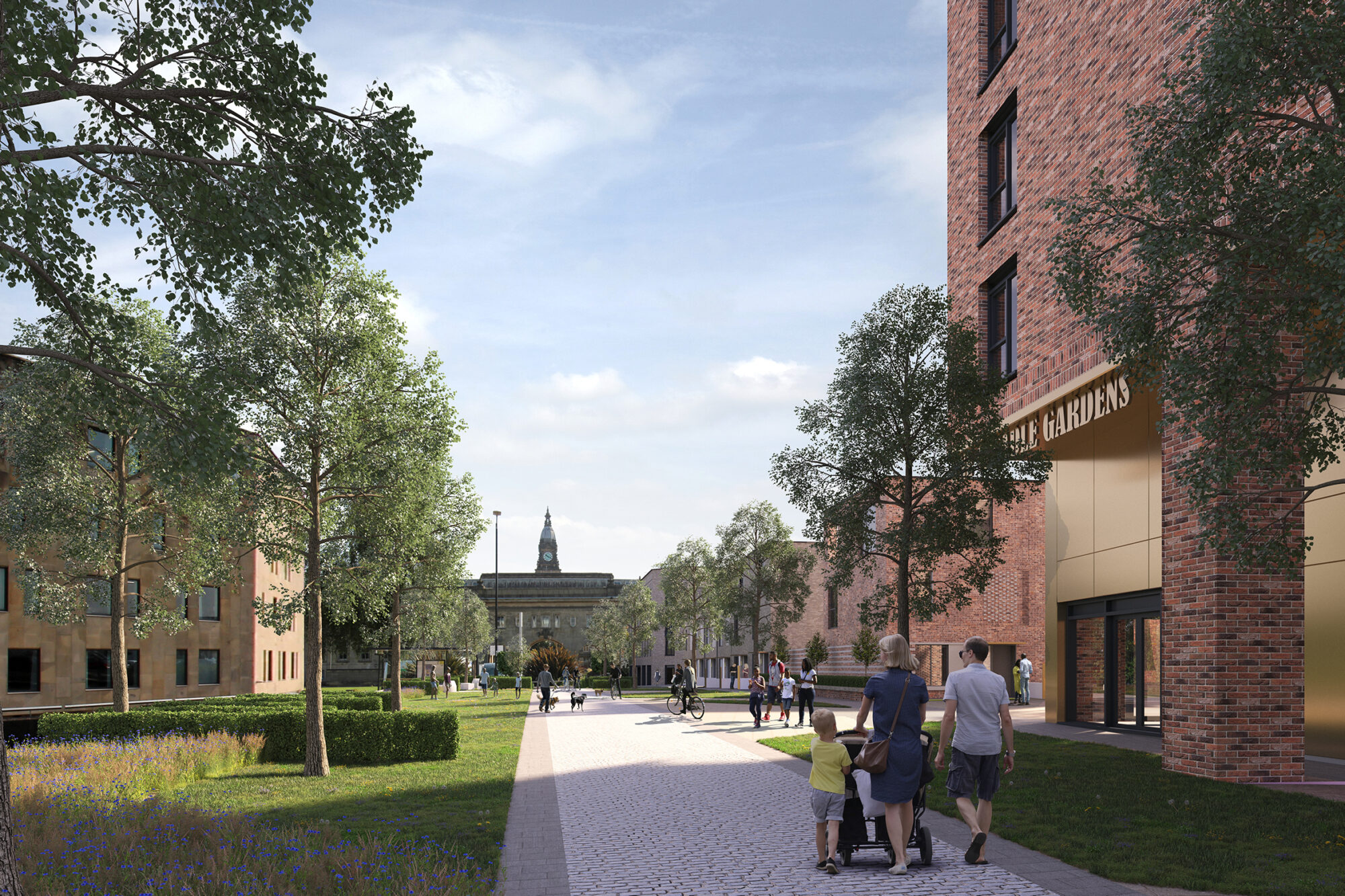 [02]
In terms of aesthetics, the new homes have been designed in high quality materials which respond to their location within the site – mediating from the red brick of Moor Lane road to the sandstone of the Conservation Area. Elevations and fenestration have also been carefully designed to reflect the hierarchy and rhythm of the local buildings. Together this creates a distinctive, yet cohesive identity for the scheme.
Now under construction, it is hoped the Moor Lane development will act as a catalyst for further regeneration in the area, providing a sustainable, mixed-tenure neighbourhood that dovetails into the surrounding areas, creating a diverse, vibrant experience designed to last for successive generations.
Client Testimonial
"Moor Lane, Bolton is a major project and involved a major effort. The response, involvement and commitment from AEW has been fantastic. It really has felt like a team effort between AEW, Bolton at Home, Step Places and the rest of the design team. It's clear that AEW have led this process and that the central core design concept was driven by them."
Dominic Conway
Group Director of Development & Growth, Bolton at Home
Project Team
Ben Robinson
Associate Director
Let's Talk