The Trilogy is a 232 home, contemporary BTR apartment complex. It is located on a key arterial route into Manchester with the landmark design befitting its gateway location.
Project Credits
Glenbrook

Client

Manchester

Location

Residential

Sectors

Architecture

Services

232 homes

Size

£28m

Value

2015 - 2019

Programme

Complete

Status

-

Certifications

Glenbrook

Photography
Insider North West Residential Property Awards - Apartment Development of the Year (100+)

Finalist

RICS - Social Impact Awards

Finalist

LABC - Regional Building Excellence

Finalist
232 units comprising
1, 2 and 3 bedroom homes
100% occupancy
6 months after completion
A top 3 development
on the HomeView website
A 4 time finalist
in industry awards
The Brief & Design Development
We were appointed by Glenbrook to develop proposals for a new residential development on a 1-acre site in the emerging Castlefield district.
In terms of their brief, one of our key considerations was the well-being of the residents. Our directive revolved around averting the isolation commonly encountered in comparable projects and focus on providing a range of spaces for residents to meet and socialise. It was however important to balance this need for communal space with scheme viability.
With this in mind, we utilised 3D design across the team with regular model shares to develop, test and coordinate the design. We also used BIM software to undertake Clash Detection to uncover issues between different components or areas, ensuring efficient design and confidence in the deliverability of the scheme.
The gateway site required a strong architectural response, however this needed to be carefully balanced with several planning constraints. Views of the nearby listed church had to be maintained and the scheme had to seamlessly integrate with the surrounding industrial architecture and respond to it's gateway location. We therefore undertook in depth consultation with Manchester City Council to review and refine our proposals and ultimately secure planning approval.
"Through collaborative working with our wider team and the local planning authority, they have managed to design and deliver a scheme that not only responds to its context as a high-profile site but meets with our commercial needs around building efficiency and cost... "
Ian Sherry
Director, Glenbrook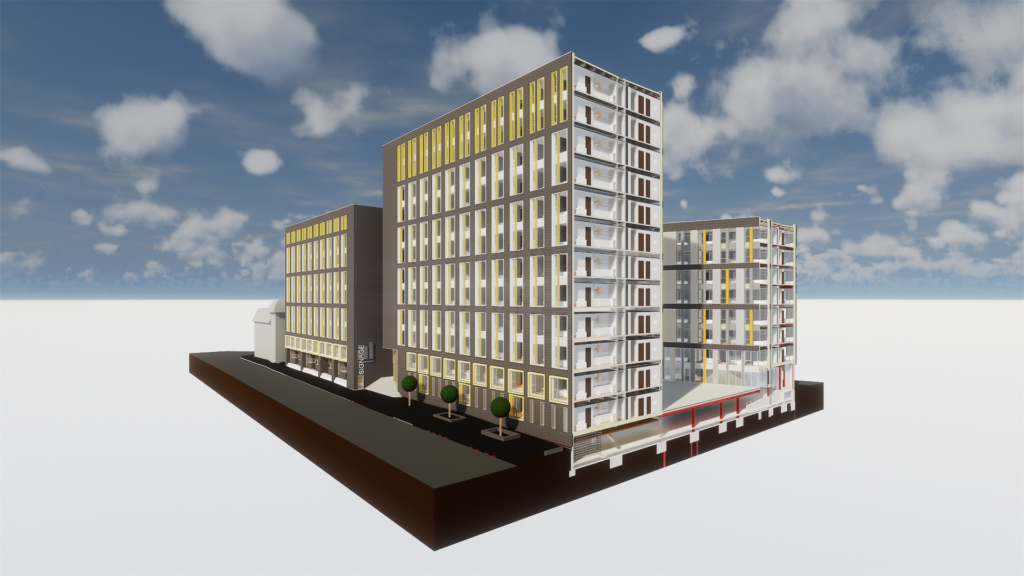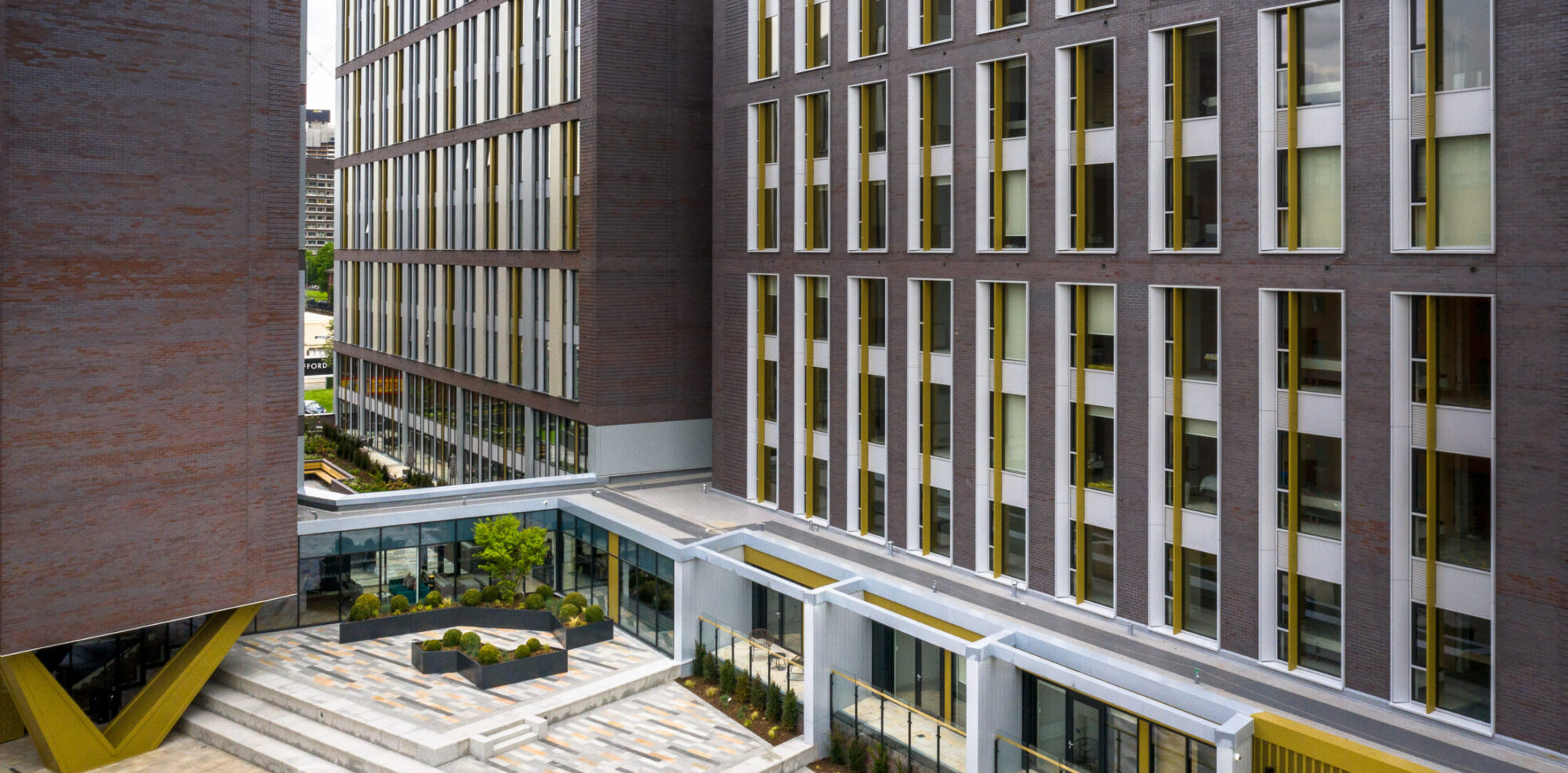 [01]
The final scheme comprises 232 one, two and three bedroom homes. Apartments are located across three towers. These range from 8 to 12 storeys – creating the desired landmark whilst allowing the views dictated by planning to be maintained.
All three blocks are interlinked through a central hub at ground level which centres around a landscaped communal courtyard. Other amenities include a concierge, gym, cycle store and a basement car park. By locating many amenities in the central circulation space we maximised net:gross.
On the upper floors, the design of the apartments and construction of the floor allows for easy change of the floor plate layouts – future proofing the scheme for following generations and adaptable reuses.
The design of The Trilogy successfully responds to the site's context whilst maximising flexibility and viability.
Design features
Three towers spanning 8 to 12 storeys create a landmark whilst maintaining views of the nearby listed church.

Utilises circulation space as communal areas - achieving a 80% net:gross

Allows for adaptable reuse through flexible floorplate design.

The predominantly brick façade reflects the sites industrial heritage, but with a contemporary twist.
[02]
Externally, a mixture of traditional brickwork with relief brickwork details, expansive sections of projecting brickwork, bespoke curtain walls, and cladding provides visual interest and breaks up the facades. Meanwhile, deep recessed windows with contrasting splays on the street and garden facing elevations create an eye-catching aesthetic whilst maximising residents' views of the city.
The scheme has proven extremely popular with residents, commercially and within the industry. 6 months after completion, the building was 100% occupied. It was also voted one of the top 3 developments nationally on the Home View website and has been a finalist in several industry awards.
Client Testimonial
"...AEW was working against a tight timeframe for design, planning and delivery. Its team has consistently dealt with all challenges presented by a scheme of this nature and was instrumental in presenting the vision of the scheme to the project's funding partners."
Ian Sherry
Director, Glenbrook
Project Team
Colin Savage
Commercial Director
Let's Talk