Cornerstone is an iconic HQ office in the Stockport Town Hall Conservation Area. It delivers cutting edge customer services, together with smarter ways of working for tenant Stockport Homes Group.
Project Credits
Quorum / Stockport Homes Group

Client

Stockport

Location

Offices

Sectors

Architecture

Services

54,000 sq ft

Size

£9.6m

Value

2013 - 2017

Programme

Complete

Status

BREEAM Very Good, EPC A

Certifications

Andrew Livesey

Photography
BCO Awards - Corporate Workplace Regional

Finalist
550 staff members
relocated from 4 buildings
54,000 sqft
of flexible office & community space
BCO Regional Finalist
Corporate Workplace
The Brief & Design Development
Working with developer Quorum Estates Ltd and future tenant Stockport Homes Group, we were tasked with designing a new office building that would bring together 550 staff members from four remote sites into one location.
A key focus of the design was to promote the integration of these separate groups through a cultural change. The brief requested an agile, modern working environment that eliminated the remote office 'silos' and was future-proofed for further growth and adaptation. We were also asked to encourage contact between Stockport Homes' staff and its customers and to enhance the customer service experience.
Our proposals also needed to address a challenging site. The topography varied wildly and the aesthetic of the building had to address the Town Hall Conservation Area and be of a sufficient quality to justify the demolition of a locally listed car showroom. The site also became constrained after the discovery of the foundations of a historical windmill.
"Feedback to the building has been very positive, and this is testament to our team and Stockport Homes in working with Eric Wright to develop a building on a complex site which has been completed within budget. The building sets new levels of design standards for office buildings in the Town Centre and complements the Town Hall and A6 corridor in line with the Council's original aspirations."
Paul Cook
Director, Quorum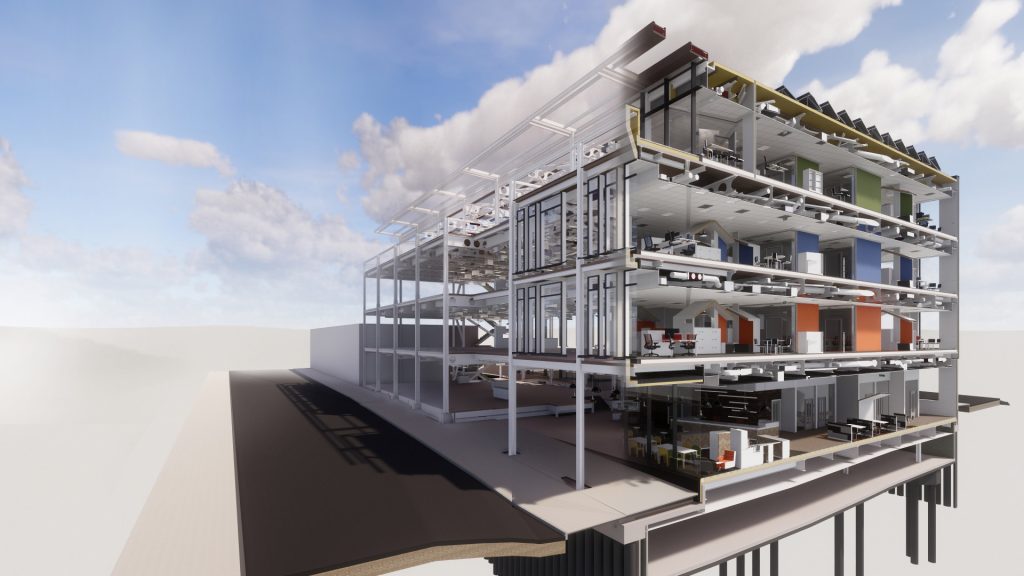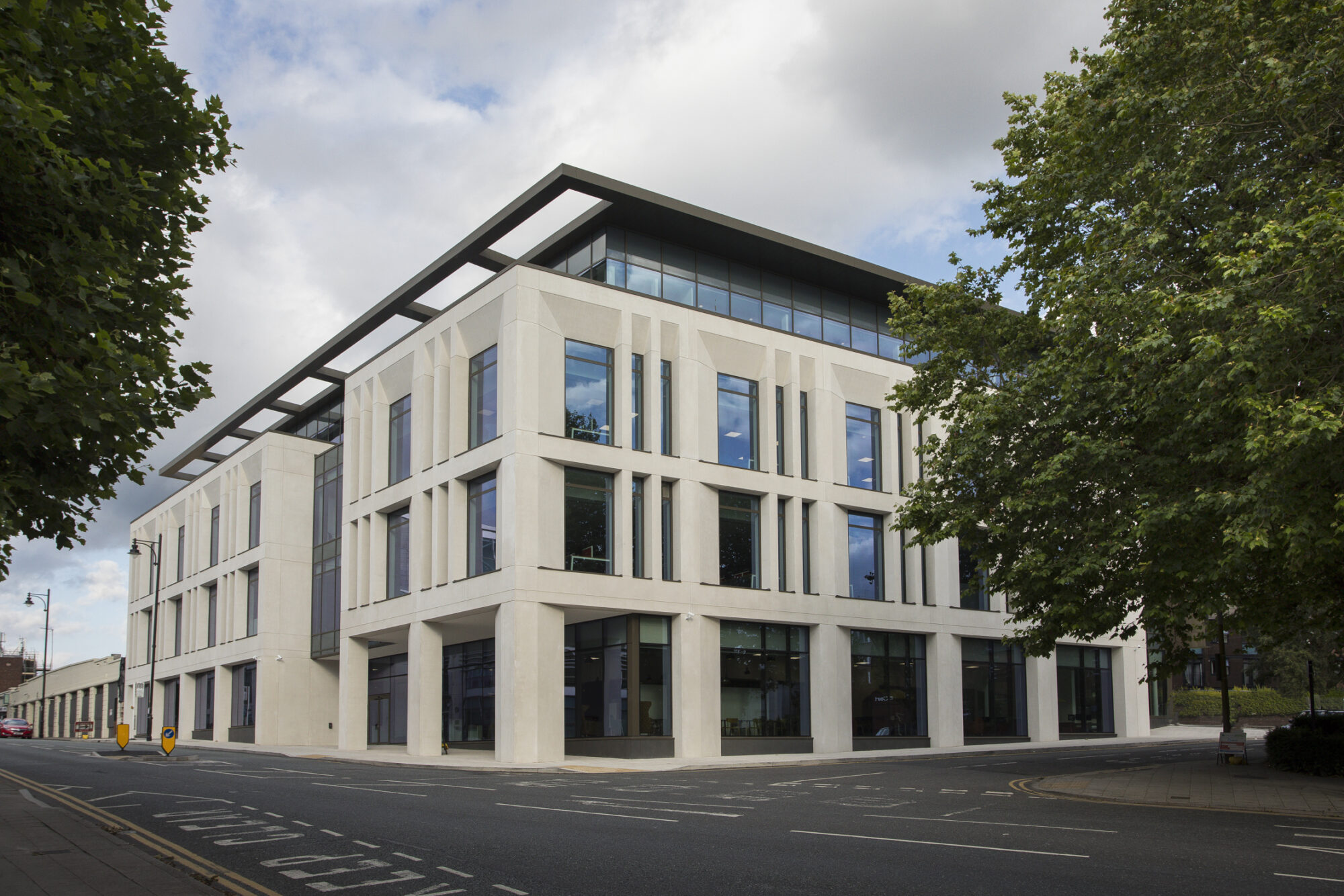 [01]
The 'iconic' HQ office now delivers cutting edge customer services together with smarter ways of working for Stockport Homes.
Externally, the 54,000 sq ft office responds sensitively to its civic setting creating a seamless transition between the Town Hall and neighbouring residential apartments. The facade is constructed from pre-cast concrete panels which, along with features such as the cloistered walkway, appropriately address the civic location and create an iconic addition to the immediate area.
At four storeys high, the challenging topography of the site, which varies 1.5 metres, was used to the building's advantage to create additional height to the new public/community areas.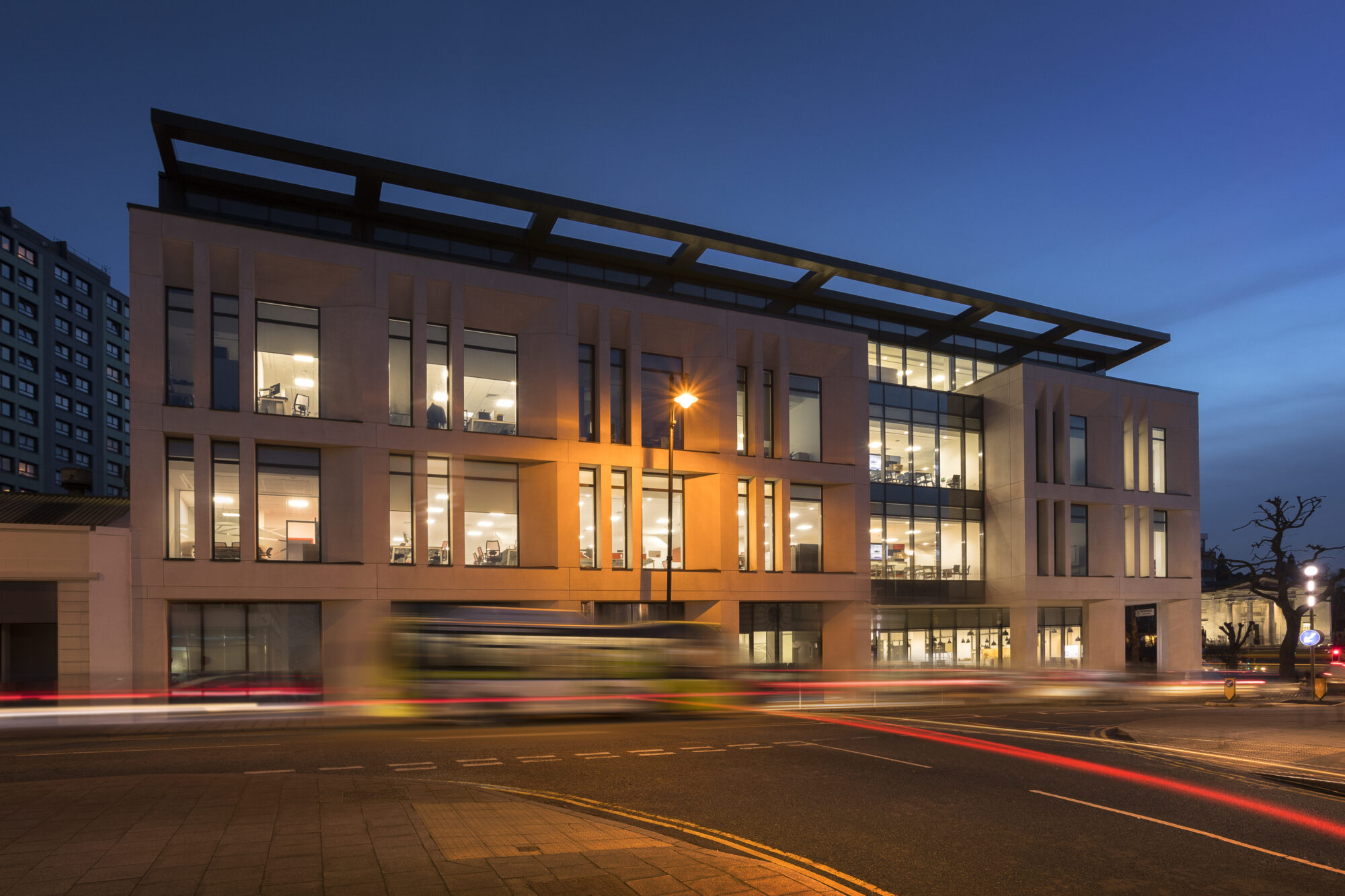 [02]
At ground floor, single access entrance doors for both staff and customers, lead through to a 4m high lobby, coffee shop and customer contact centre. This provides a space for staff, customers and the community to to mix and provides a light, welcoming space for all.
On the upper floors, the office floor plates provide a variety of work settings and spaces all with external views and vistas. The third floor features a board room and two balconies providing external breakout / meeting space. The new office is designed to feel homely and maximise staff comfort, interaction, socialisation, and overall happiness which all effect productivity and well-being.
The high efficiency of the building was achieved passively through the specification of concrete cladding to create thermal mass, high performance glass, enhanced u-values and efficient M&E systems. The building achieved an EPC rating A.
Beyond its immediate success, Cornerstone has also helped kick-start the wider regeneration of this area of Stockport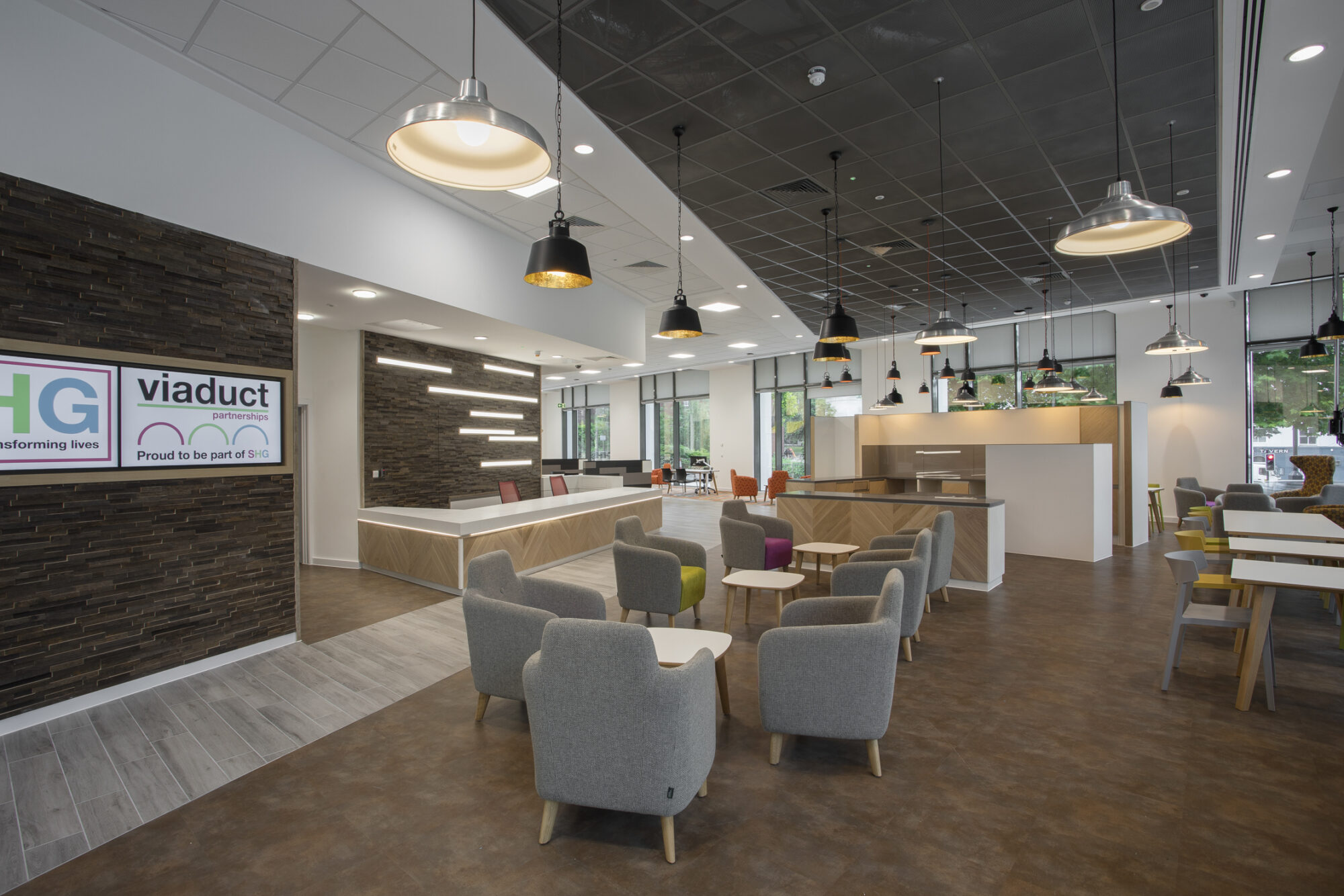 With future-proofing a key element of the brief for the building, flexibility and adaptability were built into the design.
Design features
Clear span floor plates allow flexibility of layout.

Core designed to allow floors to be subdivided as required.

Desk sharing rations can be altered to suit business needs.

Provision for the future installation of photovoltaic panels.
Client Testimonials
"Cornerstone delivers cutting edge customer services and modern ,smart ways of working. It's warmth,style,friendliness ,efficiency is at the heart of everything we do. It makes a living, breathing ,experiential, statement about who we are; our focus and openness with customers, our quality offer, our entrepreneurial style as well as our commitment to Stockport, its investment strategy and our relationship with partners. Our aim is for all those who come in contact with it to enjoy it and have their lives enriched by it"
Helen McHale,
Chief Executive, Stockport Homes
Let's Talk