Working with the UK's leading telephone answering service; Moneypenny, to deliver a multi-award-winning flagship headquarters in Wrexham. The £15m office building is now known as "the happiest office in the land".
Project Credits
Moneypenny

Client

Wrexham

Location

Offices

Sectors

Architecture, Interior Design

Services

89,500 sqft

Size

£15 million

Value

2014 - 2017

Programme

Complete

Status

BREEAM Very Good, EPC B

Certifications

SG Photography, Aliva UK, CW Studio

Photography
Mix Interiors - 30 Under 30

Listed

BCO Awards - Corporate Workplace National

Highly Commended

BCO Awards - Corporate Workplace Regional

Winner

British Council for Offices (BCO) - Test of Time

Finalist

RICS (Wales) - Commercial

Highly Commended
BCO Regional Winner
Best corporate workplace
BCO Test of Time Awards
Finalist
Multi-award winning
Flagship headquarters
BREEAM accredited
'Very Good'
The Brief & Design Development
The original brief for the scheme was for an office of approximately 60,000 sqft, catering for 550 staff, which could later be expanded to approximately 100,000 sqft for up to 1,000 staff.
The key objectives of the project were to: Bring everyone under one roof to help improve workflow and collaborative working; Reflect the ethos of the company and to create a space that was as "extraordinary and exciting as the people that work in it"; Take advantage of the setting to bring the 'outside in'; Provide flexibility for operational and organisational changes, to future proof the business for the next 25-30 years; Contribute to future cost savings through good design, and attract and retain the best quality staff.
"For us, the building is more than just bricks and mortar – it's a manifestation of our ethos; of our work so far, of our culture and of our aspirations."
Ed Reeves
Co-founder and Director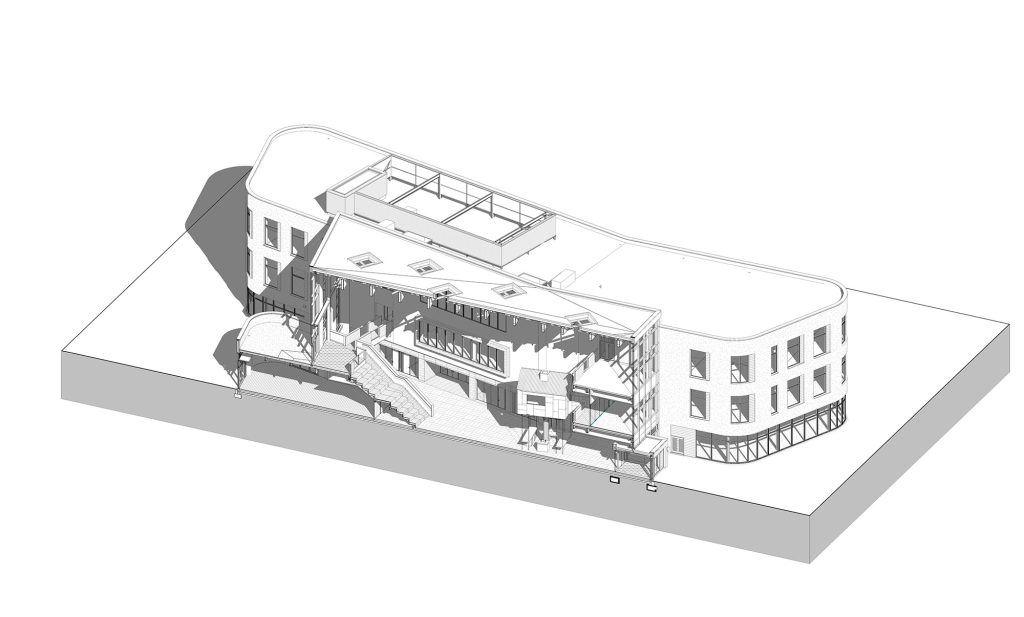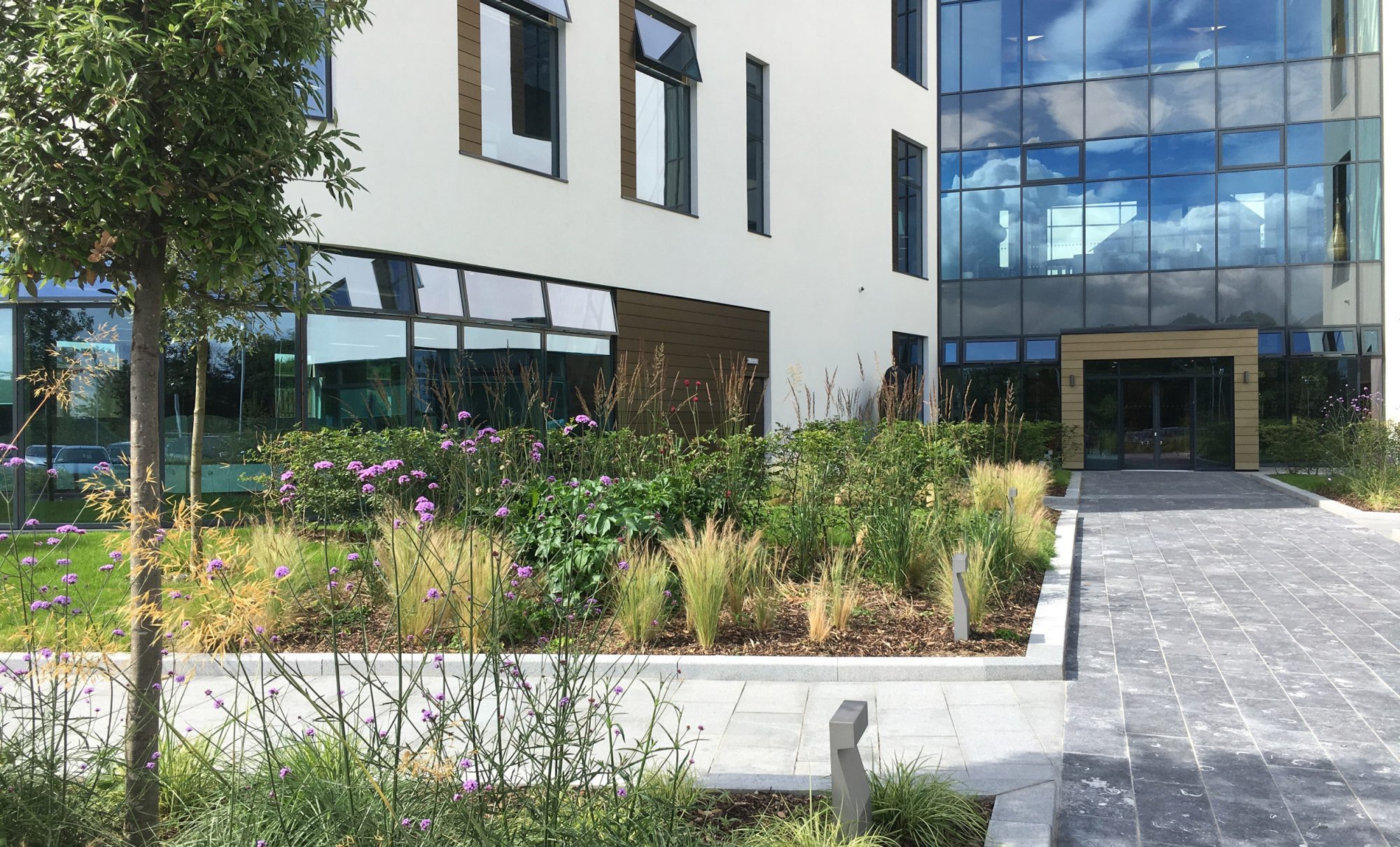 [01]
People are at the heart of Moneypenny's business and the brief reflected
the importance of its team and the desire to create an inspiring working environment for them. We therefore designed the building from the inside
out, starting by listening to the people.
We arranged the 91,000 sqft office around a triple height atrium. The atrium breaks out into 10 acres of landscaped grounds including a pond, wetlands,
an orchard and a woodland nature trail for staff.
The atrium, at 17m high and 24m at its widest, provides ample breakout, dining and quiet space for Moneypenny's team. Bleachers provide additional seating and lead up to a quiet indoor "garden" space and roof terrace. A pub "The Dog & Bone" and a games room are located under the bleachers. Finally, a feature treehouse meeting room and board room provide more formal meeting space at the atrium's first floor level.
- Feature treehouse meeting and board room
With future-proofing a key element of the original brief for the building, flexibility and adaptability were built into the design.
Project Overview
Office floor plates provide a clear 18m span on 1.5m grid which maximises layout

Multiple stair cores.

Split WC arrangements in a "super loo" format.

Desk service strategy, raised access floors, buzzbars and grommets, providing

Externally the roof has space for additional plant and future installation of PVs.

Loose furniture was selected over fitted where possible to allow for easy relocation.
[02]
3D authoring was used to develop the design, including the co-ordination of numerous sustainable measures to help reduce running costs and increase staff comfort, the most significant being the hybrid mixed mode strategy. The scheme achieved BREEAM 'Very Good' and an EPC B Rating.
[03]
The building has gone on to win several leading industry accolades, including Best Corporate Workplace at the BCO Regional Awards and the LABC North Wales Building Excellence Awards. The scheme was also Highly Commended at the Mixology North and RICS Awards.
In 2022, Moneypenny was also a finalist in the BCO Test of Time Awards, recognising it as an exemplar of flexible, future-proofed workplace design.
Client Testimonials
"The happier our staff are, the happier our clients are. So when we made the decision to build a new headquarters, we asked ourselves how we can make sure it will be somewhere they love coming every day? The answer was easy - ask them."
Ed Reeves
Co-founder and Director
Our Experts
Ben Vincent
Senior Technician
Rebekah Parkinson
Architect
Let's Talk