RMH Oxford is a new 62-bedroom House located in the grounds of the John Radcliffe Hospital. The House provides accommodation to the families of children being treated nearby and has been sensitively designed in response to a contextually complex site.
Project Credits
Ronald McDonalds House Charities

Client

Oxford

Location

Residential

Sectors

Architecture, Interior Design, Planning Consultancy

Services

62 bedrooms

Size

£12 m

Value

2016 - 2020

Programme

Complete

Status

BREEAM Very Good / EPC A Rating

Certifications

Positive Image Photography

Photography
BREEAM 'Very Good'
EPC Rating A
30% carbon reduction
over building reglations
62 bedroom capacity
up from 17
400 families supported
within its first year
We have worked with RMHC for over 15 years designing and delivering Houses across the UK. Each provides accommodation and support for families who have seriously ill children being treated at nearby hospitals, allowing them to stay close to their loved ones.
RMHC identified that demand for their 17-bedroom House within the Oxford Children's Hospital was far exceeding capacity and, with Oxford University Hospitals NHS Foundation Trust, commissioned a new purpose-built House on a brownfield site within the grounds.
Having already delivered previous schemes for the Charity, we were appointed to deliver the scheme. The brief required the delivery of 60+ ensuite family bedrooms with associated communal areas including lounges and kitchens. Further administrative and ancillary spaces were also to be accommodated.
We utilised the skills, experience and knowledge of our team from previous Houses to resource this project. Our Planning Consultancy and Interior Design Teams worked collaboratively with our Architectural Staff to ensure a successful planning process and a welcoming internal environment.
"This new house will mean more than triple the number of families can be near their children when they most need them. It will provide a welcoming and nurturing environment to help families to best support their children."
Dr Karen Steinhardt
Clinical Director of Children's Services, Oxford University Hospitals NHS Foundations Trust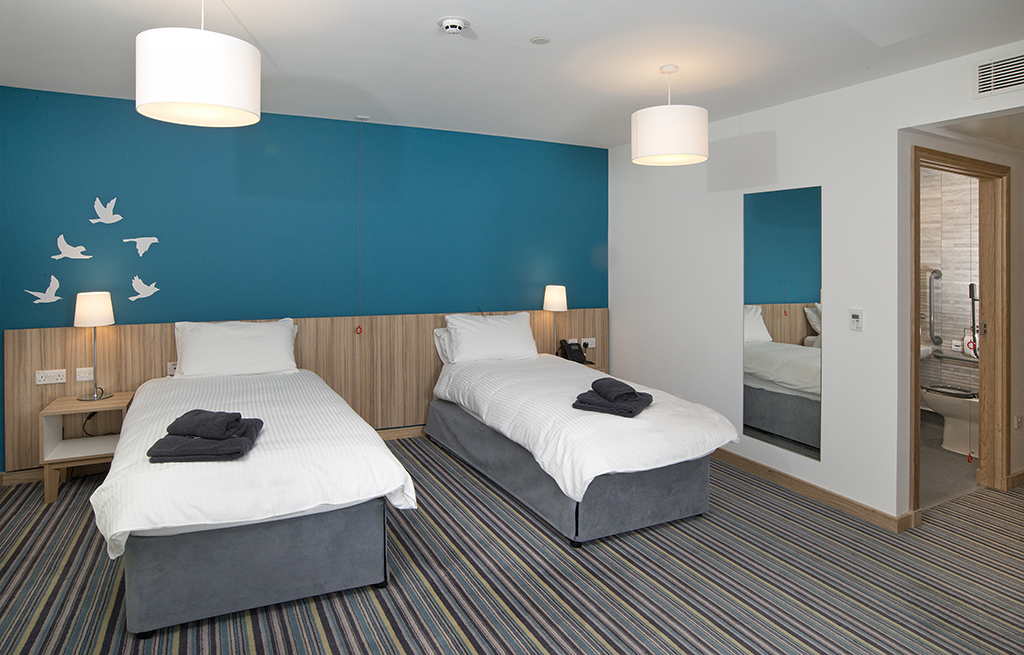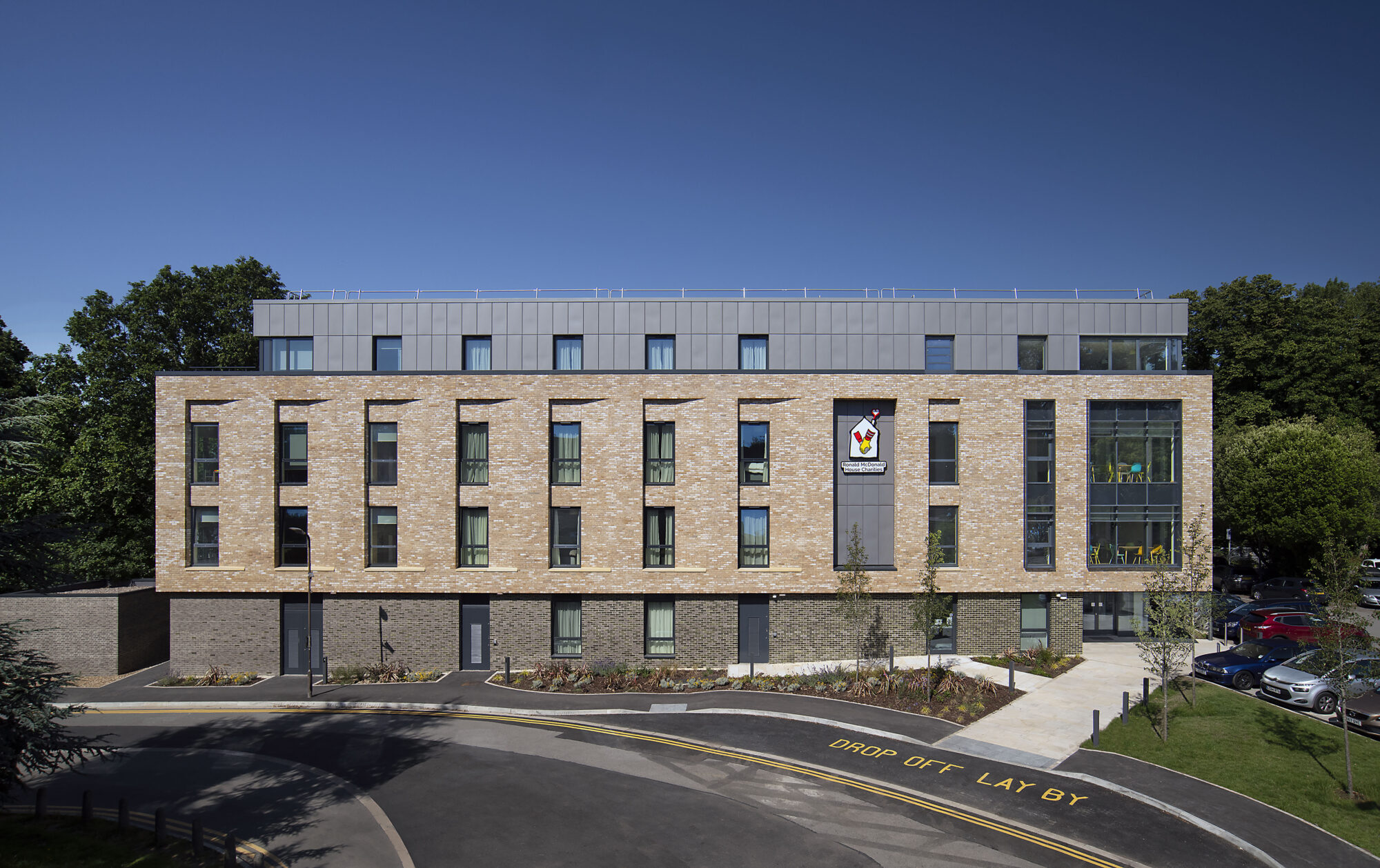 [01]
We undertook extensive briefing activities to successfully take the scheme forward. This included public consultations, pre-application discussions and a review with the Oxford Design Review Panel which helped refine the design.
The House was sensitively designed in terms of siting, form and materiality to mediate between adjacent domestic and health uses, be respectful to the nearby conservation area and minimise the impact on existing trees. In response, the building was located away from neighbouring residences and arranged in an L-shape to enable the retention of 2 established trees.
The 4-storey building is broken down into 3 distinct horizontal bands. The ground floor embodies the RMHC brand, whilst the 1st and 2nd floors are architecturally grouped with traditional materials, which sit comfortably in the residential neighbourhood. The 4th floor is recessed from the buildings edge to help minimise visual impact.
With sustainability a key element of the original brief for the building, various features were incorporated into the design.
Design features
Excellent building fabric insulation and air tightness to reduce heat loss.

Natural ventilation to most spaces.

Extremely efficient CHP unit to provide heating and hot water.

Highly efficient air source heat pump technology used for cooling.

LED lighting to most of the building.

Supplementary roof mounted PV panels.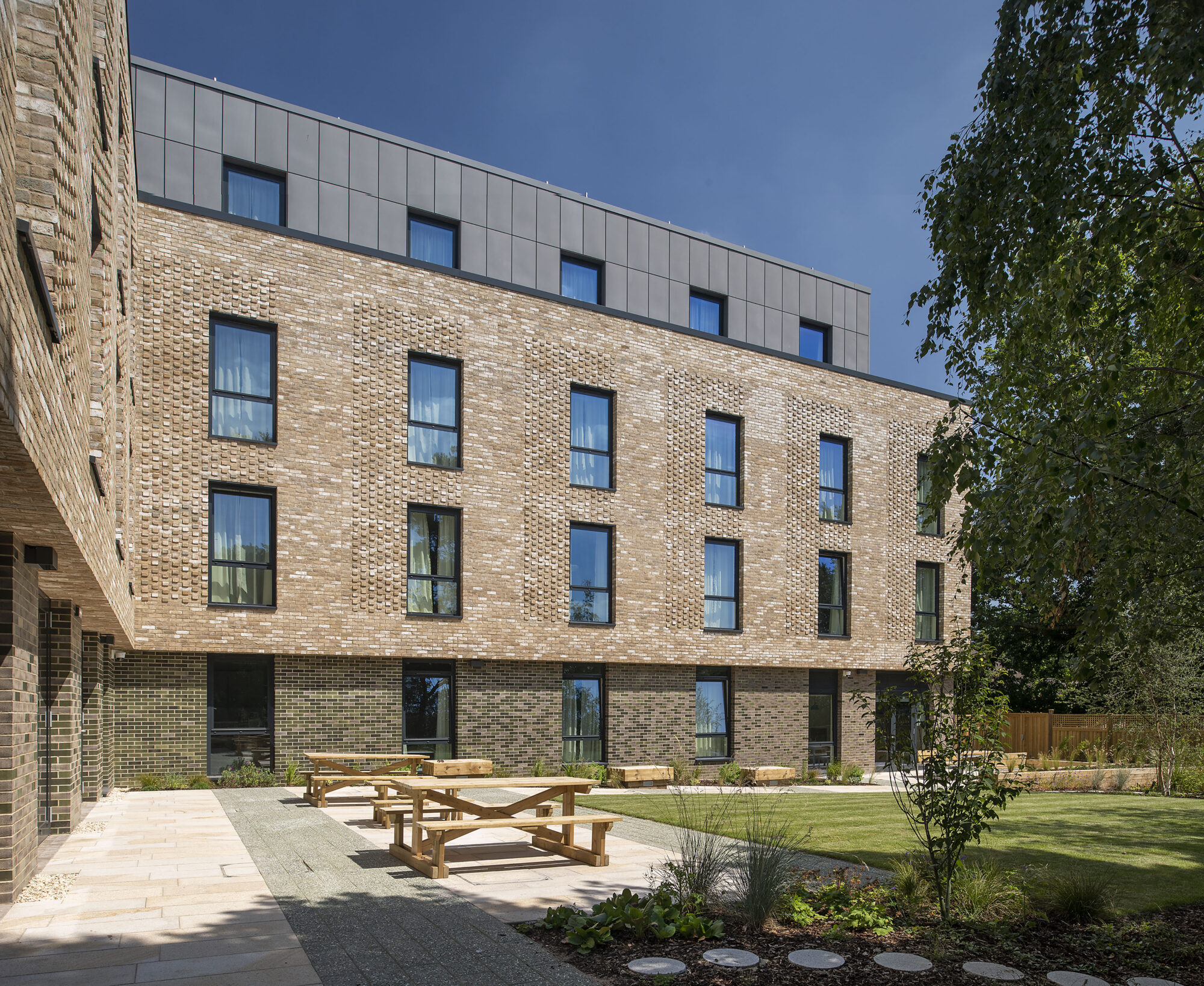 [02]
Our façade design and environment servicing strategy were focused on energy efficiency. The building final building achieved a target 30% reduction of CO2 emissions over and above the requirement in Part L of the Building Regulations as well as securing a BREEAM 'Very Good'.
The client sort best value on the project. In response, the team worked together to drive efficiencies in time, budget, and sustainability. The team co-ordinated the design in a BIM compliant environment. This provided a risk-free design, where materials and components arrived on site, safe in the knowledge that each had been tested in the 3D design, ensuring fast, safe, high-quality construction.
In its first year, the House provided over 400 families with a 'home away from home'.
Project Team
Andy Rainford
Managing Director
Natalie Edwards
Senior Technician
Let's Talk