Our relationship with Ronald McDonald House Charities spans 15 years and has seen us design and deliver 7 Houses nationwide – providing welcoming homes for the families of children being treated at nearby hospitals.
Project Credits
Ronald McDonald House Charities

Client

Nationwide

Location

Residential

Sectors

Architecture, Interior Design, Planning Consultancy

Services

26 - 66 bedrooms

Size

Various

Value

2008 - Ongoing

Programme

Ongoing

Status

BREEAM Excellent / BREEAM Very Good

Certifications

Various

Photography
London Construction Awards - Architecture Design of the Year

Winner

Civic Trust Awards - Regional

Finalist
7 houses
delivered nationwide
New-build, refurbishment & fit-out
projects delivered
BREEAM Excellent
building delivered
The Brief & Design Development
We are the retained architects for the UK's leading provider of free family accommodation at NHS hospitals – Ronald McDonald House Charities UK (RMHC)
Each Ronald McDonald House is unique to the setting and circumstances of the hospital; they may occupy existing buildings on site, be located in part of the hospital itself, or they may be a new purpose-built building. Regardless of the location, the unifying brief for every House is to create a high quality, home-away-from home for the families of the seriously ill children who will be staying there.
On each commission our Planning Consultancy and Interior Design Teams work collaboratively with our Architectural Staff to ensure a successful planning process and a welcoming internal environment.
Working with a charity client, we maintain a focus on viability and deliverability on every scheme to ensure on time and budget delivery. This includes lifetime costs, with briefs increasingly looking at sustainable design and how we can minimize energy and running costs for the charity long into the future.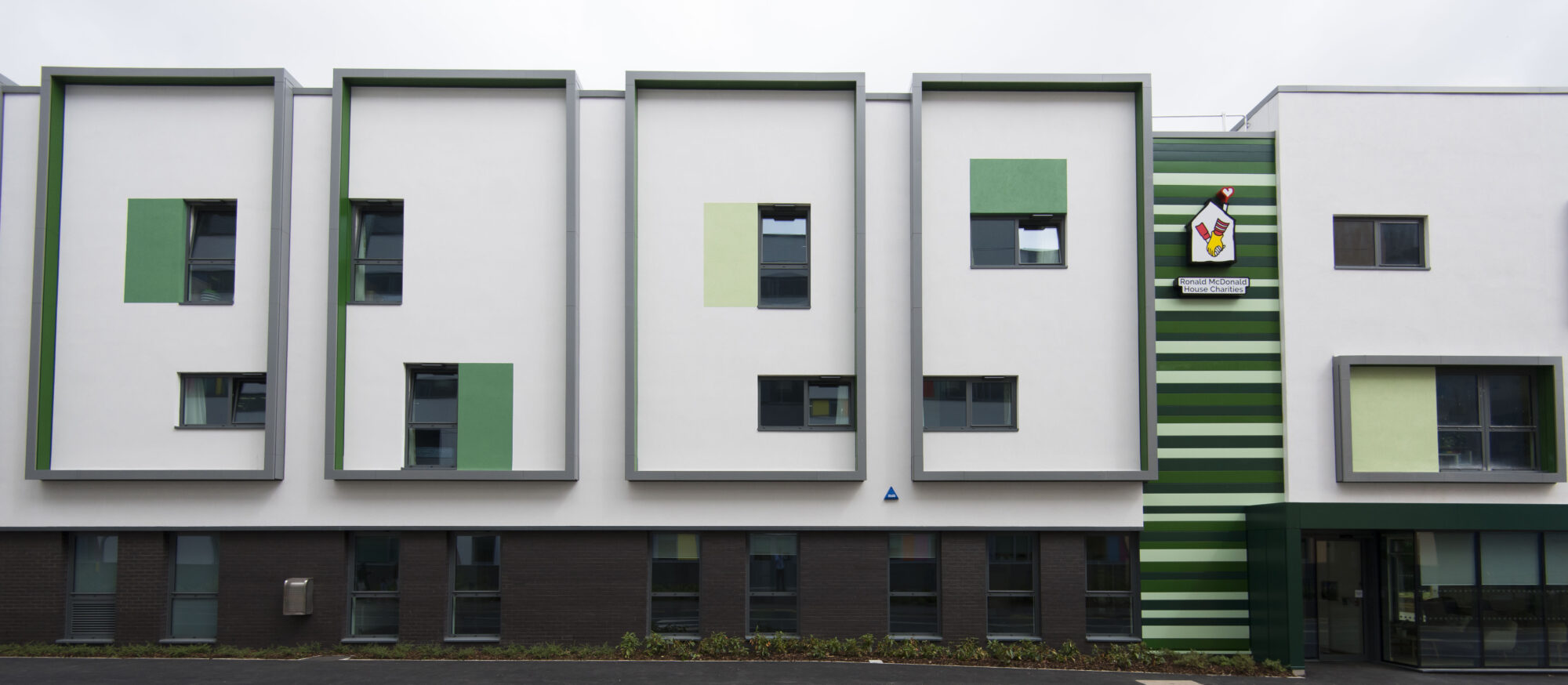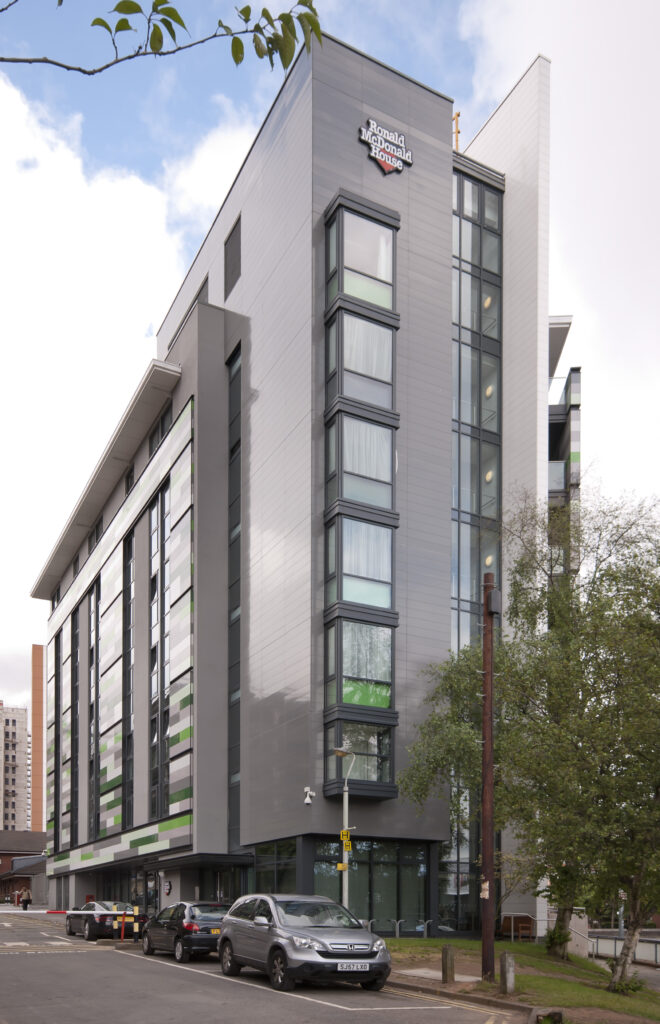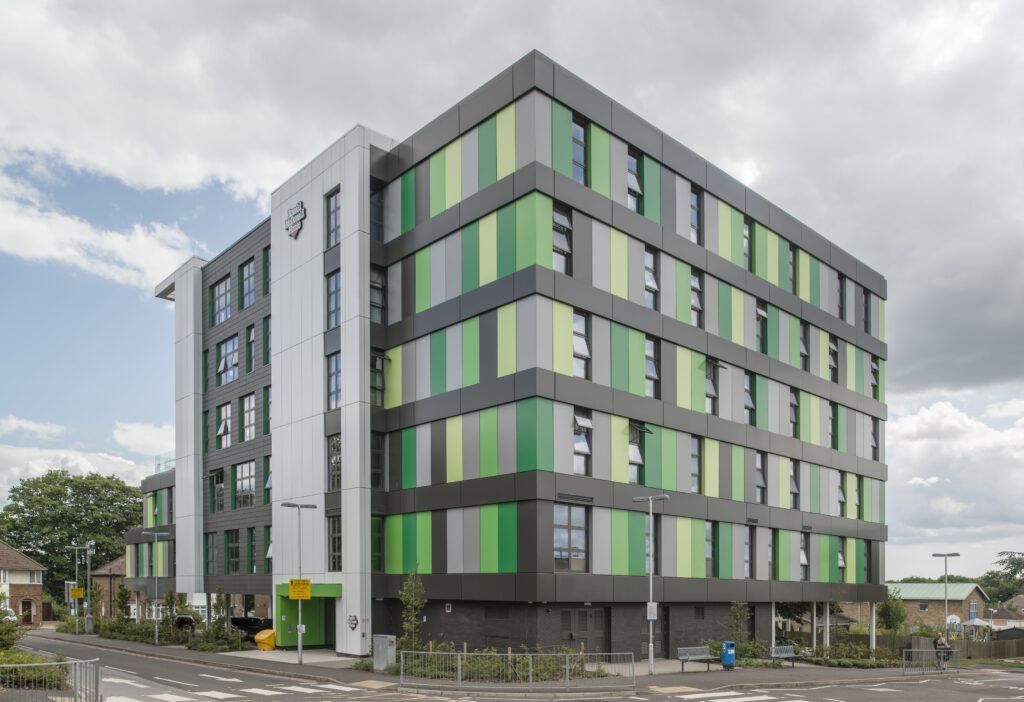 [01]
Our 15-year partnership with Ronald McDonald House Charities has resulted in Houses of between 26 to 66 bedrooms built adjacent to specialist children's hospitals throughout the UK.
Family bedrooms form the heart of all Ronald McDonald Houses. These are designed to include two single plus two pull-out beds, providing accommodation for up to four people. This means that a whole family can stay together in one room. In addition, each house typically incorporates a range of communal facilities including kitchens, lounges, laundry rooms and gardens. A day room is often also provided, which includes similar facilities to the communal areas. This is a vital resource for families who are not staying at the House, providing a space where they may relax and unwind away from the hospital ward. The buildings also offer a range of staff areas to support the running of the House.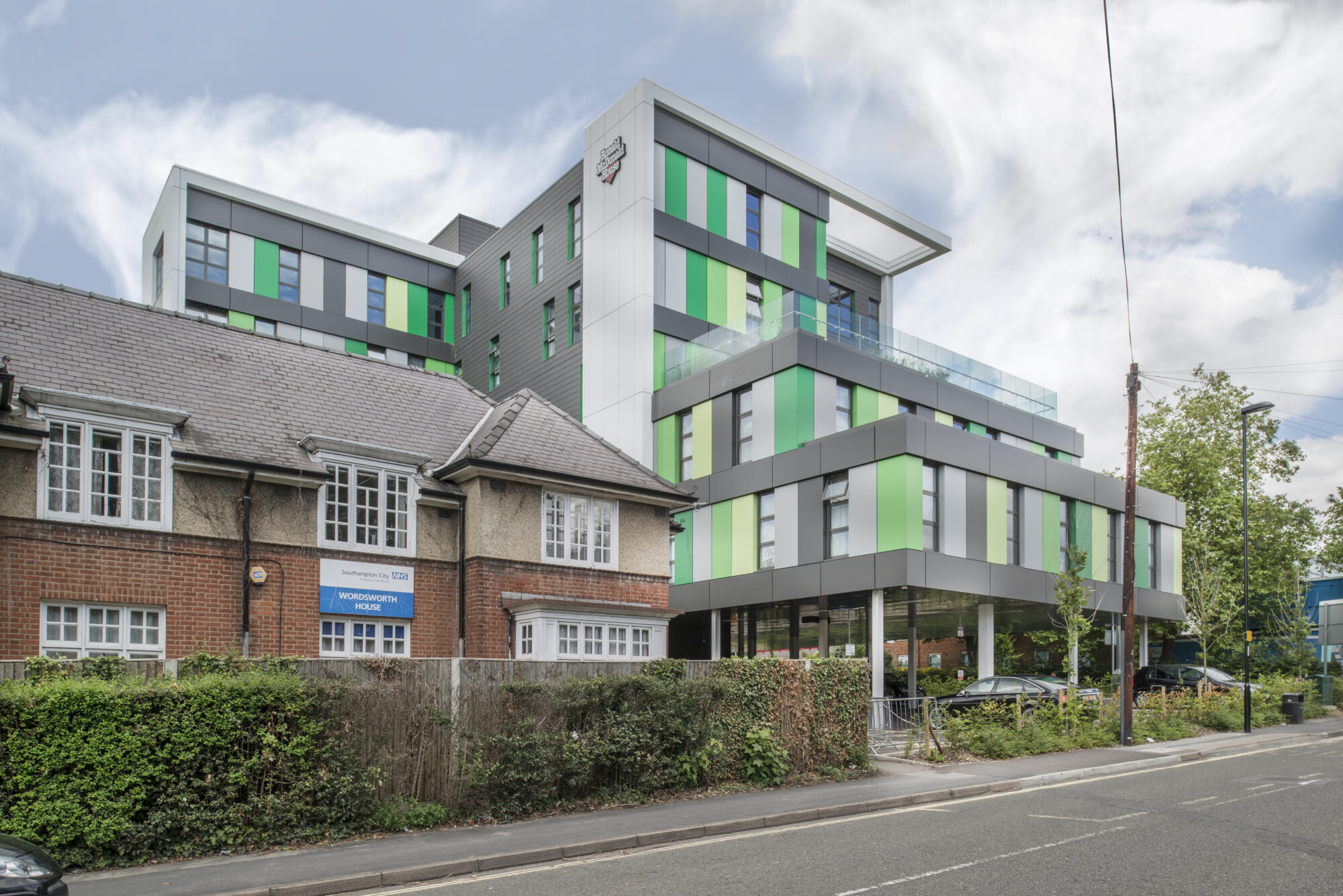 [02]
Our first completed House was the six storey, 66-bedroom Birmingham House which provides home for up to 240 people per night. This development defined the charity's brand strategy for future developments. This strategy is most apparent at subsequent Houses in Southampton, Manchester and Cardiff. More recently we have faced challenging developments in Edinburgh, London and Oxford. In Edinburgh, the new 25-bedroom accommodation is on the top floor of the Royal Hospital for Children and Young People. Meanwhile in London we delivered an award-winning new 66-bedroom House in the heart of a Conservation Area and in Oxford maximised development on a contextually challenging site.
We continue to work with the charity both on projects and through a range of social value and charity initiatives in support of their work.
Client Testimonial
"Their enthusiastic and co-operative team are always approachable and good humoured. They have a positive can do attitude and always work with us to resolve any issues that may occur. They have an understanding of our need as a Charity to secure the best possible deal, and are also always willing to help us with background information required in connection with bids for additional funding streams that might be available."
Anne Ward
Former Head of Development, RMHC
Let's Talk