RMH Evelina is a new 59-bedroom House located in the grounds of the John Radcliffe Hospital. The House provides accommodation to the families of seriously ill children being treated nearby and has been sensitively designed in response to a contextually complex site.
Project Credits
Ronald McDonald House Charities

Client

London

Location

Residential

Sectors

Architecture, Interior Design

Services

39,000 sq ft

Size

£13m

Value

2013 - 2016

Programme

Complete

Status

BREEAM Excellent / EPC A Rating

Certifications

Positive Image Photography

Photography
Civic Trust Awards - Regional

Finalist

London Construction Awards - Architecture Design of the Year

Winner
BREEAM "Excellent"
EPC rating A
50% Carbon reduction
Over building regulations
London Construction Award
Winner
The Brief & Design Development
We have worked with RMHC for over 15 years designing and delivering Houses across the UK. Each provides accommodation and support for families who have seriously ill children being treated at nearby hospitals, allowing them to stay close to their loved ones.
Prompted by the relocation of the St. Thomas' children's ward to the Evelina hospital in 2005, a closer facility was required, and the inception of project began. We were appointed to create a larger, sustainable new 'home away from home' for the charity.
With the site lying within a conservation area and being located adjacent to Grade I listed Lambeth Palace, a considered design was required. To support this, consultation was conducted with stakeholders including Lambeth Palace and Friends of Archbishop Park. Public feedback was also encouraged with exhibitions held in both the park and Evelina Ward resulting in very positive reception.
We utilised the skills, experience and knowledge of our team from previous Houses to resource this project. Our Interior Design Teams worked collaboratively with our Architectural Staff to ensure a successful project.
"…Having a place to unwind away from the hospital makes a big difference to families at a stressful time, as well as easing the significant financial challenge of finding somewhere to stay close to their sick child."
Anne Ward
Head of Development, RMHC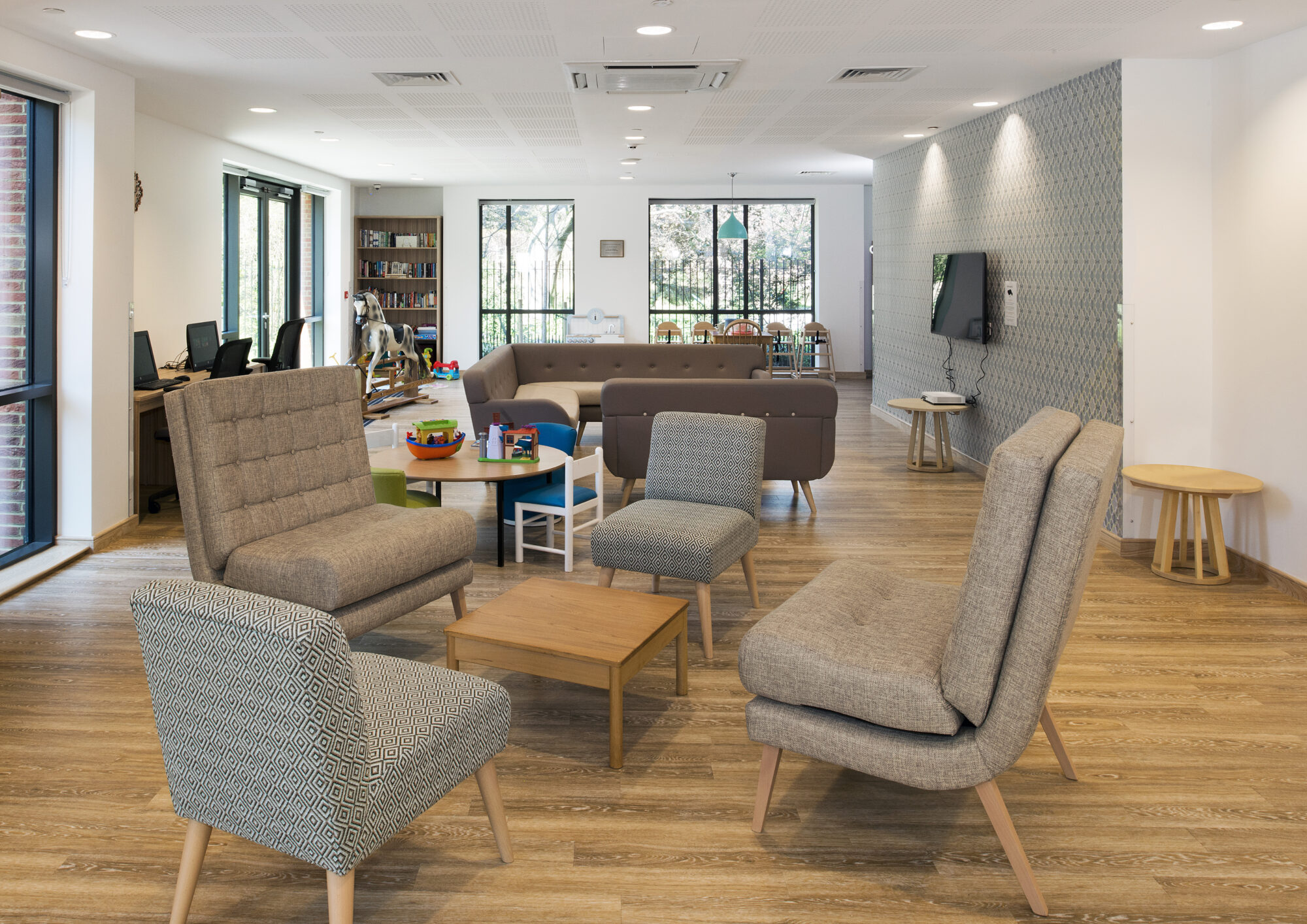 [01]
The final building provides 59-bedrooms, over double the previous facility, and includes 6 fully accessible rooms. It also offers a range of communal areas for families to spend time and relax. These areas include space for dining, playrooms, lounges and laundry rooms – allowing families to continue as normal a life as possible at a difficult time.
As well as providing the much-needed extra capacity required, the House possesses the homely feel requested. Our interior design team achieved this by playing with domesticity and simple features such as wallpaper, pendant lighting, and soft furnishings – ensuring a welcoming, comfortable, and inclusive atmosphere is felt.
Externally, it was essential to respond but not copy the surroundings. We created a contemporary yet sympathetic aesthetic that enhances the sensitive and historic character of the area. The design takes cues from the surrounding Georgian properties, inheriting the proportions and rhythm of the windows as well as splitting the building into smaller blocks with a deliberate roof storey to reduce the building's perceived mass. The primary material, a handcrafted Charnwood Brick, found throughout the conservation area is used in a contemporary manner. Brick is complimented by areas of limestone cladding and detailing.
This resulted in the building achieving a carbon emissions reduction of over 50% over the Building Regulations Part L 2010 target emission rate as well as an EPC rating of 'A' and a BREEAM rating of 'Excellent'. Flexibility and futureproofing were also considered and lightweight internal walls were specified to allow for future reconfiguration in the future.
Alongside it's sustainability credentials, the project has also been recognised by the industry. It won a London Construction Award and was a finalist at the Civic Trust Awards and the Royal Institute of Chartered Surveyors (RICS) Awards.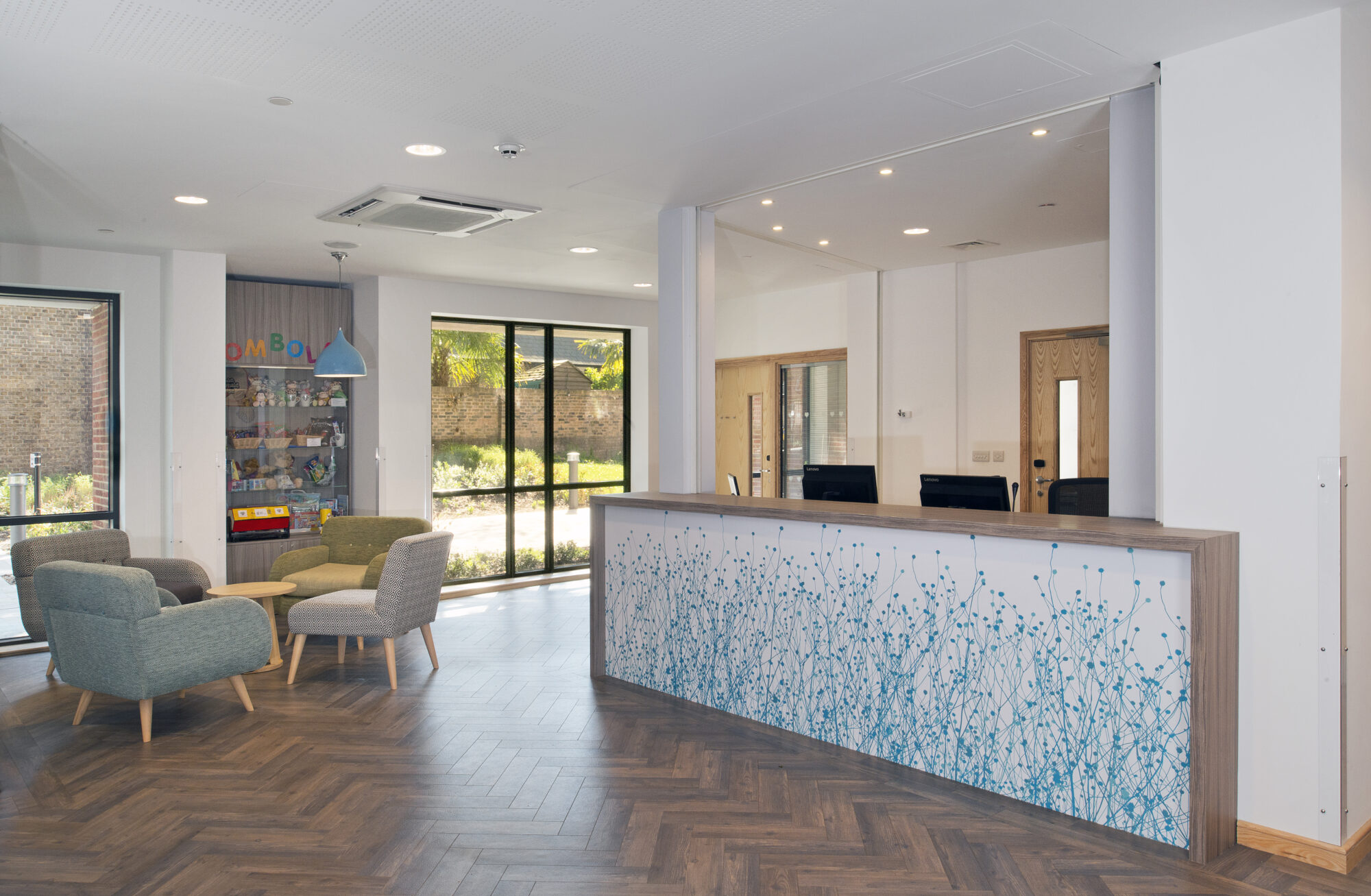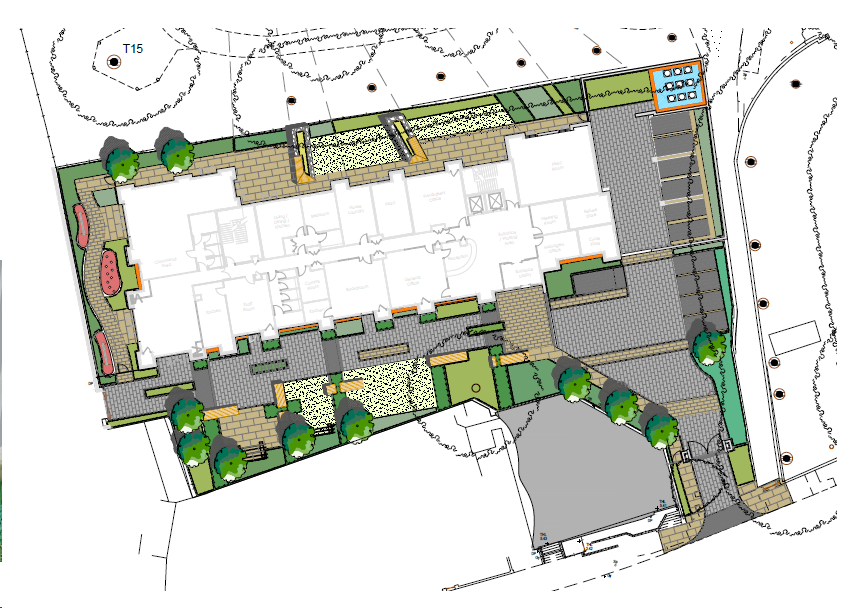 With sustainability a key element of the original brief for the building, various features were incorporated into the design.
Project Overview
Excellent building fabric insulation and air tightness to reduce heat loss.

Orientation was carefully considered and solar shading incorporated to minimise overheating.

CHP unit provides 81% of the building's domestic hot water.

130m² of PV panels provide 'green' electricity.

Highly efficient air source heat pumps and VRF heating / cooling systems.

Cladding materials were locally sourced.

LED lighting.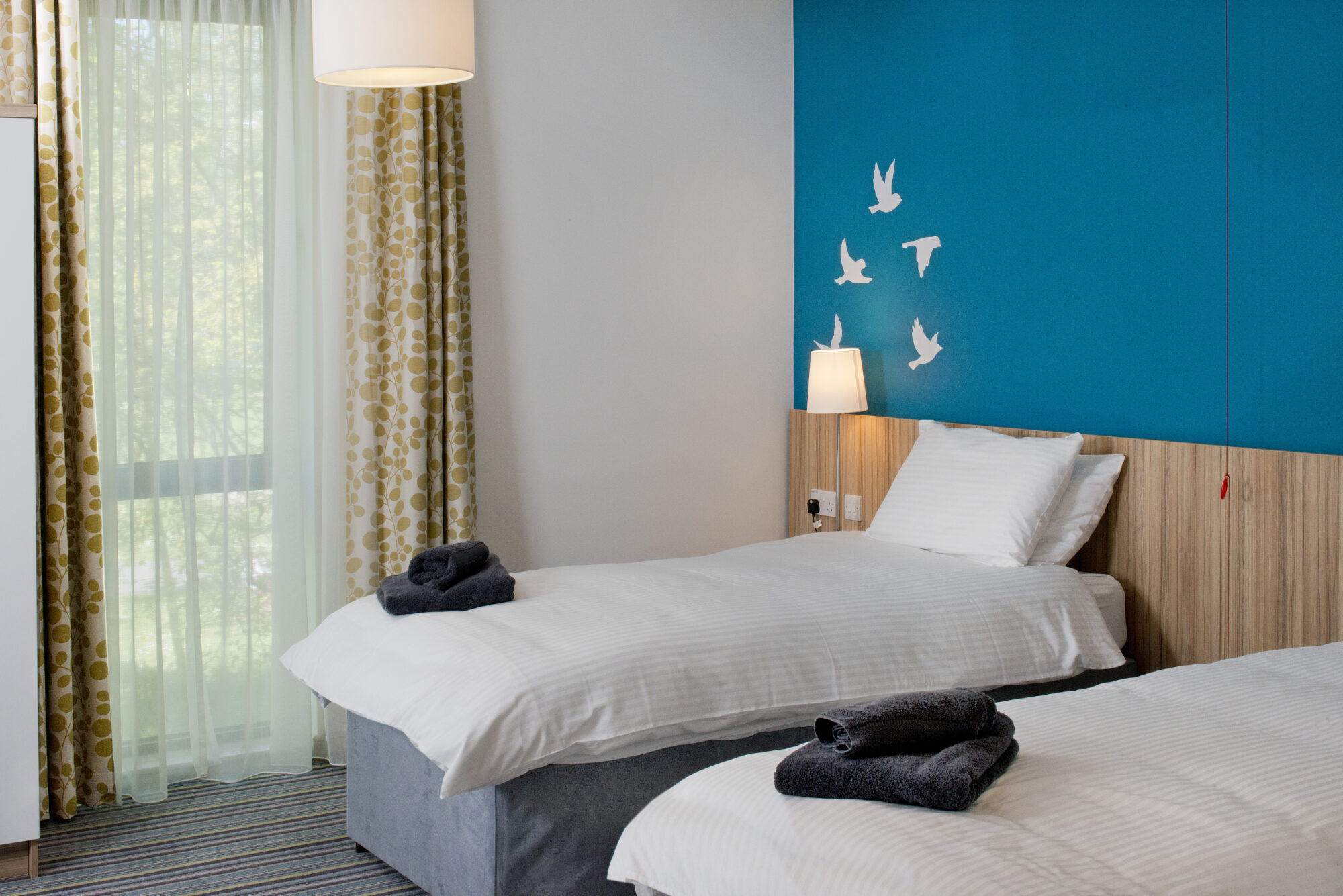 Client Testimonials
"We are delighted with our flagship House which has already helped hundreds of families to stay together near their children in hospital. It was an ambitious project and we and our partners worked long and hard to bring it to fruition. Demand is acute for our services all over the country and we are pleased to be able to provide our support to one of the leading children's specialist hospitals in London."
Anne Ward
Head of Developments, RMHC
Let's Talk