St Anthony's is a Grade II listed church located in Wythenshawe Greater Manchester. We were appointed to design a sympathetic new community hub and presbytery in the grounds of the listed building, providing benefits for both the church and the local community.
Project Credits
Diocese of Shrewsbury

Client

Wythenshawe

Location

Community & Culture, Residential

Sectors

Architecture, Heritage

Services

6,200 sq ft

Size

£1.5m

Value

2017 - 2021

Programme

Complete

Status

Positive Image Photography

Photography
Grade II listed
adjacent church
3,700 sq ft
community centre
The Brief & Design Development
In 2017 we were appointed by the Diocese of Shrewsbury to prepare proposals for a new presbytery and community centre on the site of St Anthony's Church in Wythenshawe – a grade II listed building designed by renowned Architect Adrian Gilbert Scott.
The site extended to 0.3 hectares and was already occupied by St Anthony's and an existing presbytery and social centre. There had been no formal planning of the site leading to an awkward relationship between the buildings. The church and presbytery created external spaces of poor quality and the inconsistency of materials between the three buildings created a poor composition.
We were tasked with developing considered proposals for the site in collaboration with the Diocese. The brief was to make better use of the sites, provide an enhanced built response befitting the neighbouring church and to provide enhanced amenity for the local community and the Diocese.
"The scale and appearance of both buildings has been carefully considered to relate to both the existing Church building and the surrounding residential architecture."
David James
Associate & Conservation Architect, AEW Architects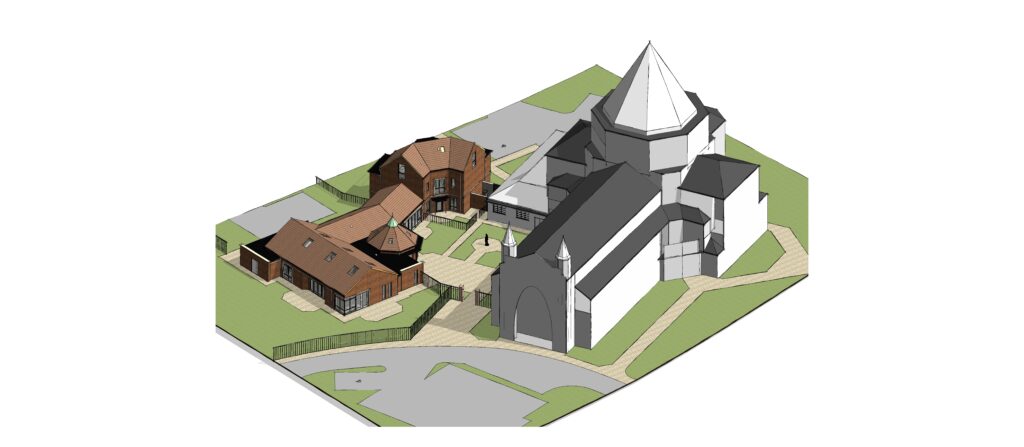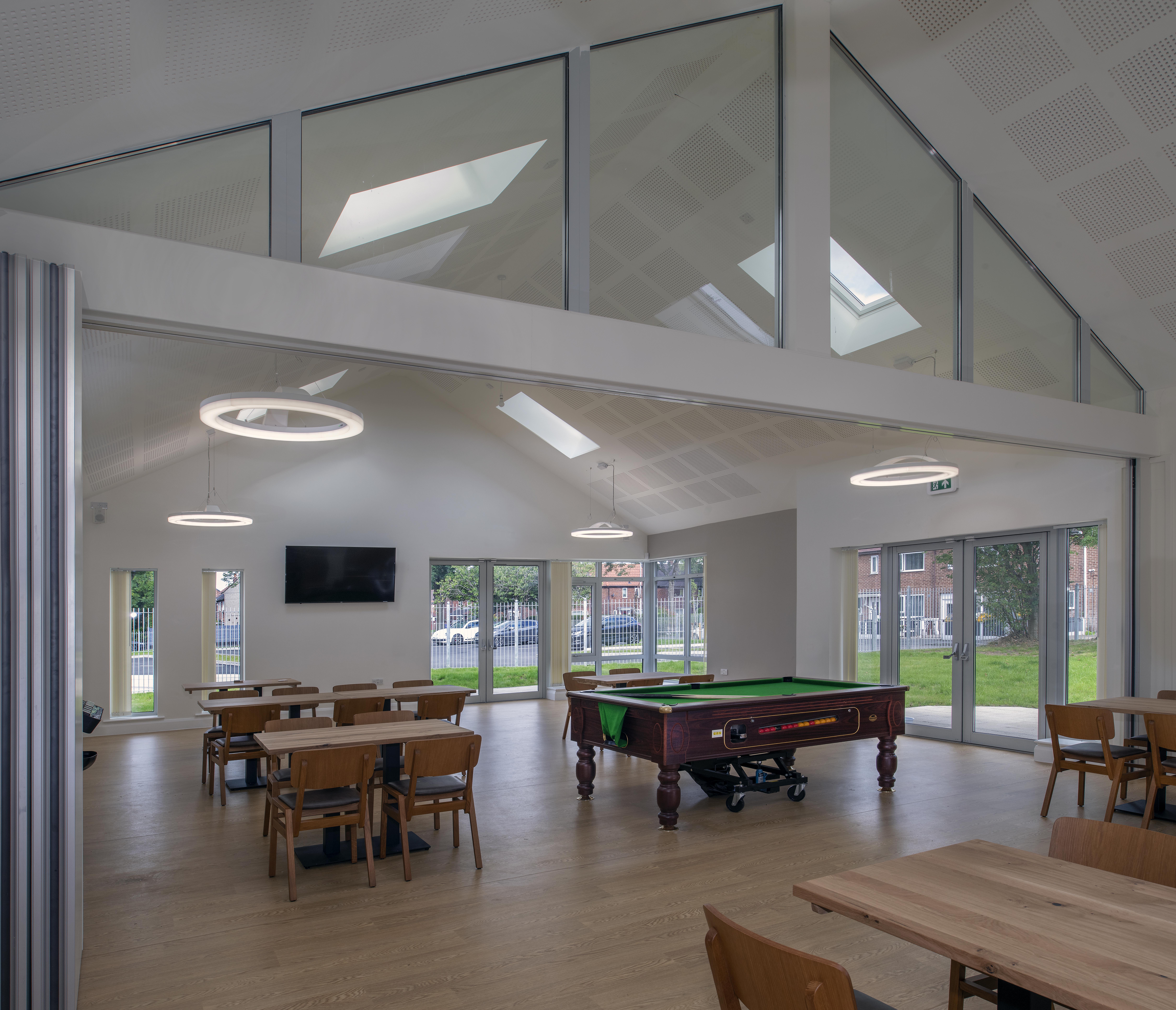 - the function space at the new community centre / social club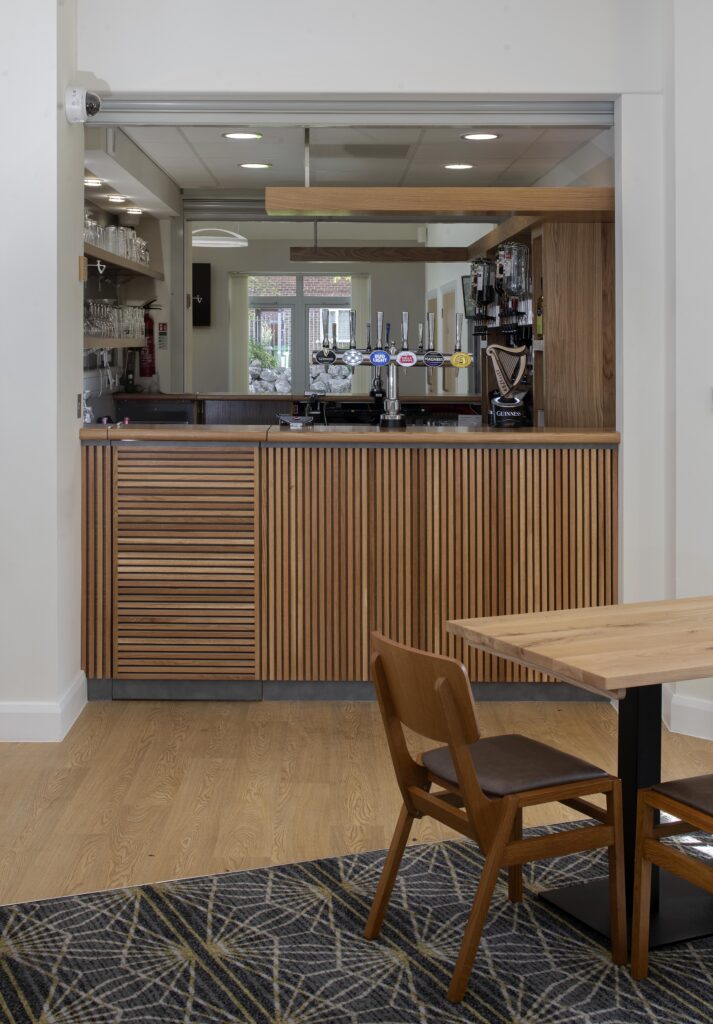 - the bar at the new community centre / social club
The final project has seen us deliver a new 2,500 sq ft presbytery adjoining a 3,700 sq ft community centre on the site of the demolished former buildings.
The three-storey Presbytery includes a Parish Office, lounge, dining room, kitchen, two bedrooms with an ensuite on the first floor, and two bedrooms on the second floor with a shared bathroom. Connected to the Presbytery is the single-storey community hub which offers a central hall, vestibule, kitchen, lounge and bar area with a social club.
Despite being contained largely to the original footprint of the former buildings, through better use of the site we were able to accommodate additional car parking to support the building uses.
Externally, the buildings were designed in buff coloured brick to match the existing Church building and include portland stone feature surrounds and banding on the elevations. The pitched roofs are finished with clay roof tiles to match the tiles on the Church. In total the new development has 7 separate roofs.
The finished building is a now a well-used community asset. Providing improved accommodation for parish staff as well as a high-quality event space for a variety of church and social functions.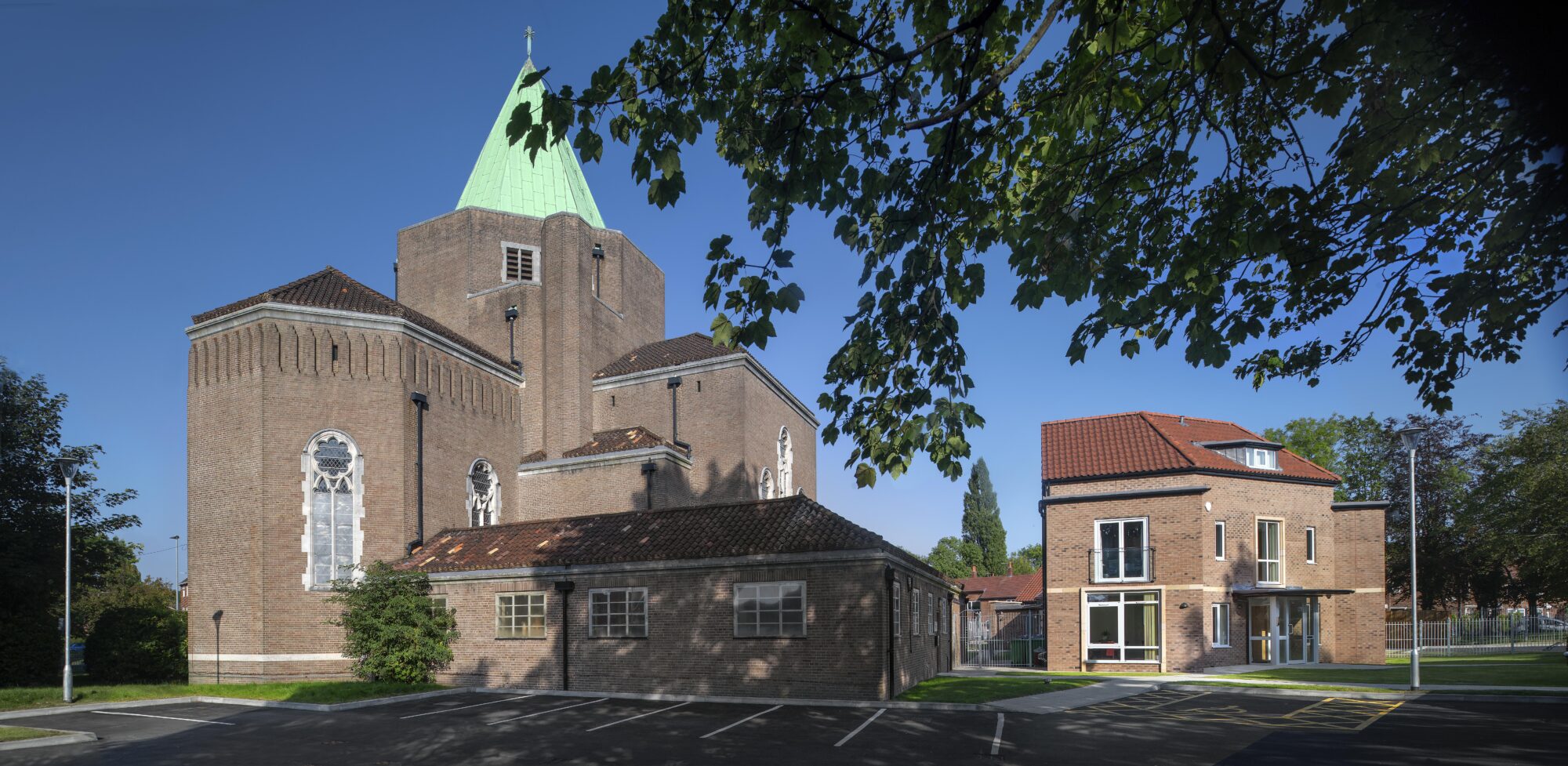 Project Team
Colin Savage
Commercial Director
David James
Associate / Conservation Architect
Edward Onchere
Senior Technician
Michael Harrison
Architect
Let's Talk